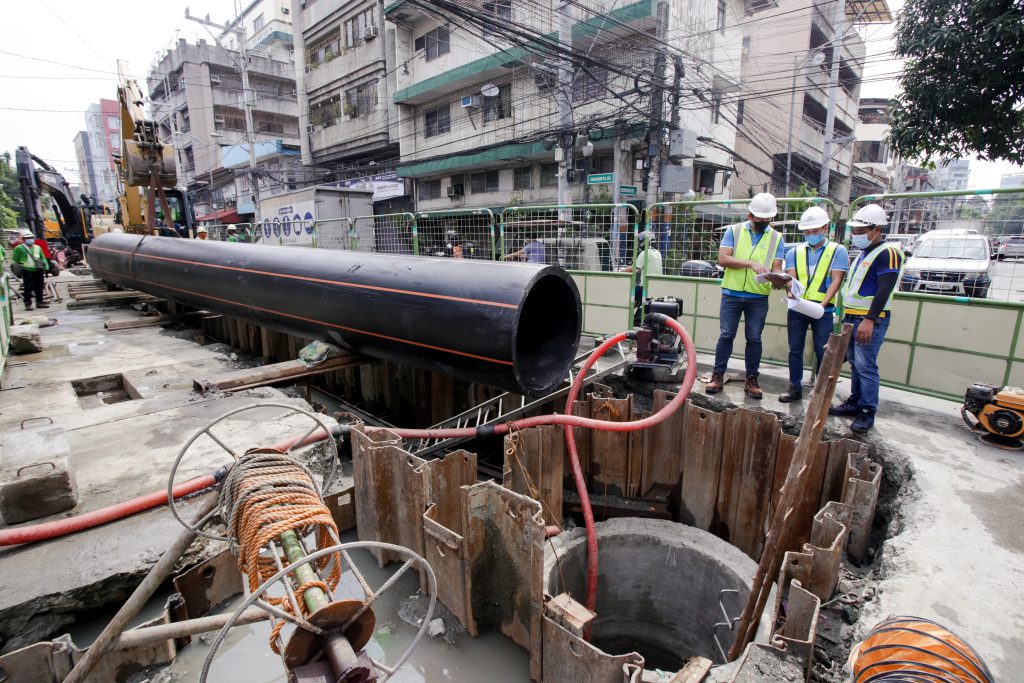 Below are the scheduled maintenance activities of Maynilad from March 27, 2023 until April 3, 2023. These activities are being done as part of the company's continuous effort to improve water services in the West Zone.
Affected customers are encouraged to store enough water for the duration of the water service interruption. Maynilad has water tankers on standby, ready to deliver water to affected areas as needed.
Upon resumption of the water service, customers should let the water flow out for a few seconds until the water clears.
We apologize for the inconvenience, and thank you for your support and understanding.
| | | | | | | |
| --- | --- | --- | --- | --- | --- | --- |
| City | Barangay | From | To | Time | Activity | Location of Activity |
| Caloocan | Brgy. 8 and 12 | March 27, 2023 | March 28, 2023 | 11 PM to 4 AM | Network Maintenance | Lapu Lapu (northeast) corner Dagat Dagatan |
| Caloocan | Brgy. 14 and 20 | March 28, 2023 | March 29, 2023 | 11 PM to 4 AM | Network Maintenance | Tanigue (west) corner Dagat Dagatan |
| Caloocan | Brgy. 28 | March 28, 2023 | March 29, 2023 | 11 PM to 4 AM | Network Maintenance | Pamasawata |
| Caloocan | Brgy. 99 to 102 | March 28, 2023 | March 29, 2023 | 10 PM to 6 AM | Network Maintenance | 9th Avenue corner Bo galino |
| Caloocan | Brgy. 99 to 102 | March 28, 2023 | March 29, 2023 | 11 PM to 4 AM | Network Maintenance | 8th Avenue corner Bo galino |
| Caloocan | Brgy. 20 | March 29, 2023 | March 30, 2023 | 11 PM to 4 AM | Network Maintenance | Tahong Alley A corner Tamban |
| Caloocan | Brgy. 56, 59, 60 and 63 | March 29, 2023 | March 30, 2023 | 11 PM to 4 AM | Network Maintenance | 9th Avenue corner D. Aquino |
| Caloocan | Brgy. 99 to 102 | March 30, 2023 | March 31, 2023 | 11 PM to 4 AM | Network Maintenance | Adalia corner Sampaguita |
| Caloocan | Brgy. 99 to 102 | March 30, 2023 | March 31, 2023 | 11 PM to 4 AM | Network Maintenance | Azucena corner Sampaguita |
| Caloocan | Brgy. 49, 52, 53, 56, 57, 59 and 60 | March 31, 2023 | April 01, 2023 | 11 PM to 4 AM | Network Maintenance | 8th Ave corner D. Aquino |
| Malabon | Dampalit and Hulong Duhat | March 27, 2023 | March 28, 2023 | 10 PM to 6 AM | Network Maintenance | Don Basilio Bautista Street |
| Navotas | Northbay Boulevard (South) | March 27, 2023 | March 28, 2023 | 11 PM to 4 AM | Network Maintenance | Dalagang Bukid (west) corner C3 |
| Navotas | Tanza | March 30, 2023 | March 31, 2023 | 11 PM to 4 AM | Network Maintenance | Dahlia corner Capt. Cruz (Right) |
| Quezon City | Payatas | March 28, 2023 | March 29, 2023 | 10 PM to 6 AM | Network Maintenance | Paseo Del Carmen corner Payatas Road |
| Quezon City | Batasan Hills | March 28, 2023 | March 29, 2023 | 10 PM to 6 AM | Network Maintenance | Ilang-ilang corner DMMA |
| Quezon City | NS Amoranto, Maharlika and Paang Bundok | March 28, 2023 | March 29, 2023 | 10 PM to 6 AM | Network Maintenance | Del Monte corner Speaker Perez |
| Quezon City | Maharlika and N. S. Amoranto | March 28, 2023 | March 29, 2023 | 10 PM to 6 AM | Network Maintenance | Angelo corner Scout Alcaraz |
| Quezon City | Santo Domingo | March 29, 2023 | March 30, 2023 | 10 PM to 6 AM | Network Maintenance | Simoun corner Biak na Bato (W) |
| Quezon City | Sauyo and Talipapa | March 30, 2023 | March 31, 2023 | 10 PM to 6 AM | Network Maintenance | Mindanao(BP) |
| Quezon City | NS Amoranto, Maharlika and Paang Bundok | March 31, 2023 | April 01, 2023 | 10 PM to 6 AM | Network Maintenance | A. Bonifacio corner Magnas |
| Quezon City | San Antonio | April 01, 2023 | April 02, 2023 | 10 PM to 6 AM | Network Maintenance | Batangas corner Roosevelt |
| Quezon City | Baesa | April 02, 2023 | April 03, 2023 | 10 PM to 6 AM | Network Maintenance | Manotok Subdivision |
| Quezon City | Balingasa | March 28, 2023 | March 29, 2023 | 11 PM to 4 AM | Network Maintenance | 9th Avenue corner Bo galino |
| Quezon City | Balingasa | March 28, 2023 | March 29, 2023 | 11 PM to 4 AM | Network Maintenance | 8th Avenue corner Bo galino |
| Quezon City | Balingasa | March 30, 2023 | March 31, 2023 | 11 PM to 4 AM | Network Maintenance | Adalia corner Sampaguita |
| Quezon City | Balingasa | March 30, 2023 | March 31, 2023 | 11 PM to 4 AM | Network Maintenance | Azucena corner Sampaguita |