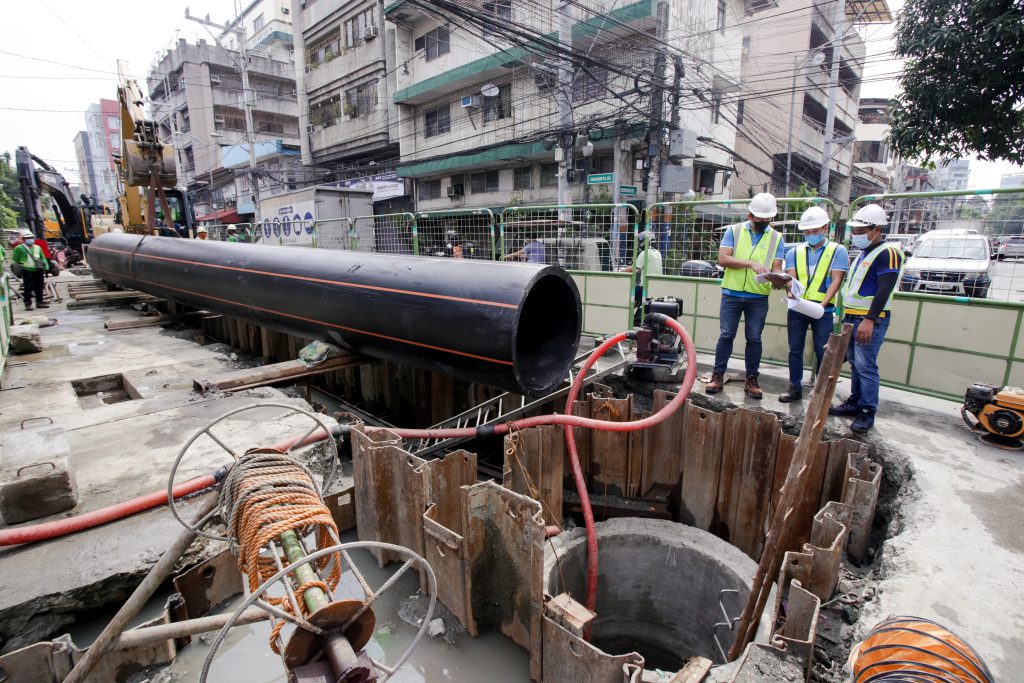 Below are the scheduled maintenance activities of Maynilad from April 2, 2023 until April 10, 2023. These activities are being done as part of the company's continuous effort to improve water services in the West Zone.
Affected customers are encouraged to store enough water for the duration of the water service interruption. Maynilad has water tankers on standby, ready to deliver water to affected areas as needed.
Upon resumption of the water service, customers should let the water flow out for a few seconds until the water clears.
We apologize for the inconvenience, and thank you for your support and understanding.
| | | | | | | |
| --- | --- | --- | --- | --- | --- | --- |
| City | Barangay | From | To | Time | Activity | Location of Activity |
| Caloocan | Brgy. 93, 97, 98, 101 to 105, 107, 108 and 121 | April 02, 2023 | April 03, 2023 | 11 PM to 4 AM | Network Maintenance | 8th Avenue corner 7th Street |
| Caloocan | Brgy. 93, 97, 98, 101 to 105, 107, 108 and 121 | April 03, 2023 | April 04, 2023 | 11 PM to 4 AM | Network Maintenance | 9th Street corner 8th Avenue |
| Caloocan | Brgy. 93, 97, 98, 101 to 105, 107, 108 and 121 | April 04, 2023 | April 05, 2023 | 11 PM to 4 AM | Network Maintenance | 9th Street corner 11th Avenue |
| Caloocan | Brgy. 14 | April 04, 2023 | April 05, 2023 | 11 PM to 4 AM | Network Maintenance | Rose corner Tulya Alley |
| Caloocan | Brgy. 156 and 157 | April 03, 2023 | April 04, 2023 | 11 PM to 4 AM | Network Maintenance | Tangke corner Sampaguita, Leeland Drive |
| Caloocan | Brgy. 164 | April 03, 2023 | April 04, 2023 | 11 PM to 4 AM | Network Maintenance | Rivera corner Tikling |
| Caloocan | Brgy. 92 and 94 to 100 | April 05, 2023 | April 06, 2023 | 11 PM to 4 AM | Network Maintenance | 11th Avenue corner Jasmin Street |
| Navotas | Tanza | April 04, 2023 | April 05, 2023 | 11 PM to 4 AM | Network Maintenance | Dahlia corner Capt. Cruz (Right) |
| Navotas | Tanza | April 04, 2023 | April 05, 2023 | 11 PM to 4 AM | Network Maintenance | Tiklaw corner Capt. Cruz |
| Navotas | San Jose | April 05, 2023 | April 06, 2023 | 11 PM to 4 AM | Network Maintenance | Govenor Pascual corner Gonzales |
| Quezon City | Baesa | April 04, 2023 | April 05, 2023 | 10 PM to 6 AM | Network Maintenance | Manotok Subdivision |
| Quezon City | Bungad | April 05, 2023 | April 06, 2023 | 10 PM to 6 AM | Network Maintenance | Bulacan corner Edsa |
| Quezon City | Veterans | April 06, 2023 | April 07, 2023 | 10 PM to 6 AM | Network Maintenance | Dangay corner Bansalangin (infront 7-11) |
| Quezon City | Balong Bato and Unang Sigaw | April 06, 2023 | April 07, 2023 | 10 PM to 6 AM | Network Maintenance | Quirino High-way corner Baesa |
| Quezon City | Bungad and Veterans | April 07, 2023 | April 08, 2023 | 10 PM to 6 AM | Network Maintenance | Dangay corner Bansalangin (near MiniStop) |
| Quezon City | Baesa and Bahay Toro | April 07, 2023 | April 08, 2023 | 10 PM to 6 AM | Network Maintenance | Mendez corner Quirino |
| Quezon City | Pag-ibig sa Nayon | April 09, 2023 | April 10, 2023 | 10 PM to 6 AM | Network Maintenance | A. Bonifacio corner Pineda (N) |