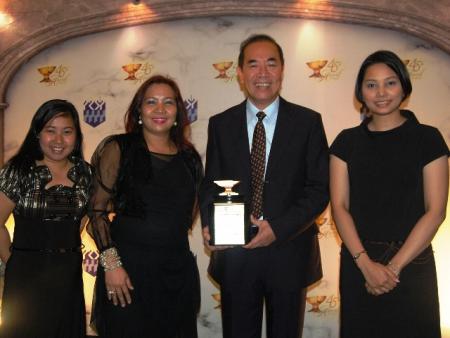 Maynilad, the private water concessionaire for the West Zone of the Greater Manila Area, recently won an Anvil Award of Excellence for its "Samahang Tubig Maynilad" program, which aims to transform divided neighborhoods into an empowered community so that residents in the area can have access to safe, reliable, and affordable water that will improve their quality of life.
Maynilad's community development program provides poor communities access to clean water by working on issues that hinder urban poor communities from being connected to Maynilad water lines, such as right-of-way conflicts, land disputes, limited finances of residents and prevalence of water retailer syndicates.
The Anvil Awards recognizes the most effective and most innovative public relations programs in the country.  In photo (L-R) are Maynilad's Corporate Social Responsibility Supervisor Lourdes Rivera, CSR Department Head Risse Jose, President Rogelio Singson, and Corporate Affairs and Public Relations Department Head Cherubim Ocampo.
The Public Relations Society of the Philippines, the country's premier PR organization, has been granting the Anvil Awards to deserving programs for 45 years.