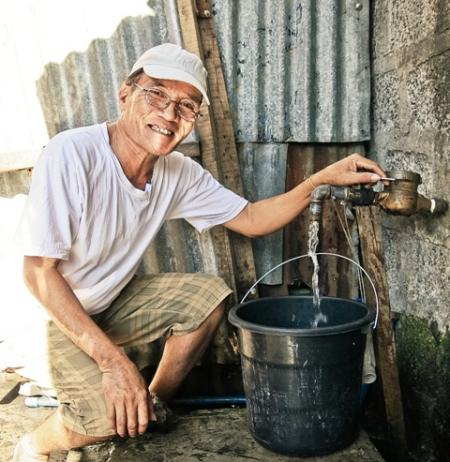 Less than five years into the aggressive investment program of Maynilad Water Services, Inc. (Maynilad), more than 6.26 million of its customers now enjoy 24-hour water service.
Prior to the takeover of Metro Pacific Investments Corporation and DMCI Holdings, Inc. in 2007, only 1.95 million customers had 24-hour water supply from Maynilad.
This major service improvement was made possible through the refurbishment of previously inoperative facilities, replacement of old leaky pipes and laying of new distribution lines.
Since 2007, Maynilad has laid 2115 km of new pipes – this roughly translates to four roundtrip trips from Manila to Baguio City.
The West Zone concessionaire is currently implementing a five-year capital expenditure program that is intended to bring 24/7 water service at 7psi to all of its customers by 2012. The program includes the replacement of old, leaky pipes, laying of primary distribution lines, construction of water reservoirs, and development of new water sources.
Maynilad is the largest private water concessionaire in the Philippines in terms of customer base. It is a concessionaire of the Metropolitan Waterworks and Sewerage System (MWSS) for the West Zone of the Greater Manila Area, which is composed of the cities of Manila (all but portions of San Andres & Sta Ana), Quezon City (west of San Juan River, West Avenue, EDSA, Congressional, Mindanao Avenue, the northern part starting from the Districts of the Holy Spirit & Batasan Hills), Makati (west of South Super Hi-way), Caloocan, Pasay, Paranaque, Las Pinas, Muntinlupa, Valenzuela, Navotas and Malabon all in Metro Manila; Cavite City, and the towns of Bacoor, Imus, Kawit, Noveleta and Rosario, all in Cavite Province.
PHOTO CAPTION: More than 6.23 million Maynilad customers now enjoy uninterrupted 24/7 water supply, thanks to the intensive investment program made by new owners Metro Pacific Investments Corporation and DMCI Holdings, Inc.