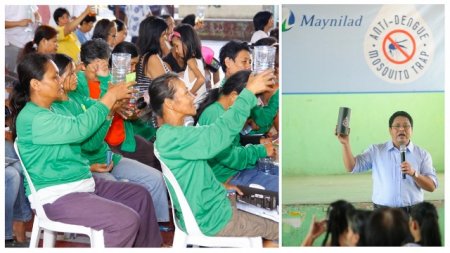 West Zone concessionaire Maynilad Water Services, Inc. (Maynilad), in partnership with Y&R Philippines, Inc. (Y&R) and the Department of Health (DOH), recently launched the Anti-Dengue Mosquito Trap, a Do-It-Yourself project designed to help curb dengue cases in poor communities.

During the launch held at Brgy. 201, Zone 20 in Pasay City, informal-settler residents were taught how to prepare the simple yet effective mosquito trap. The device uses items commonly found in households—a recycled plastic bottle with a mixture of clean water, brown sugar and yeast.

The mixture produces carbon dioxide that attracts the mosquitoes, trapping them in the device and killing them. This device can kill hundreds of mosquitos within a period of two weeks before the mixture needs replacement.

This campaign is part of Maynilad's advocacy to showcase the power of clean water. "We want to teach people a simple, innovative and affordable way to help prevent dengue cases in their communities. Through this program, we're encouraging them be more proactive in their dengue-prevention efforts," said Maynilad President and CEO Ricky P. Vargas.

The World Health Organization recently declared Dengue as the fastest-spreading tropical disease in the world, infecting an estimated 50 million people in more than 125 countries. It has overtaken malaria as the most notorious mosquito-borne disease.

The DOH estimated that from January to October 2012, there was a 24.92% increase in dengue cases compared to the same period the previous year. Of the 132,046 cases reported nationwide during this period, 701 were fatal. A breakdown of the dengue cases by region showed that Metro Manila had the highest number, with 20.42% of the incidences.

Y&R is one of the world's leading global marketing communications companies. The agency's work spans the communications spectrum and reflects the transformation that digital has driven across all media.

Maynilad is owned by the Metro Pacific Investments, Inc. (MPIC) and DMCI Holdings, Inc. (DMCIHI). It is a concessionaire of the MWSS for the West Zone of the Greater Manila Area, which is composed of the cities of Manila (all but portions of San Andres & Sta. Ana), Quezon City (west of San Juan River, West Avenue, EDSA, Congressional, Mindanao Avenue, the northern part starting from the Districts of the Holy Spirit & Batasan Hills), Makati (west of South Super Highway), Caloocan, Pasay, Parañaque, Las Piñas, Muntinlupa, Valenzuela, Navotas and Malabon all in Metro Manila; the cities of Bacoor, Cavite, and Imus, and the towns of Kawit, Noveleta and Rosario, all in Cavite Province.


PHOTO: DOH Assistant Regional Director Dr. Adriano Subaan teaches the attendees from Pasay City how to build their own Anti-Dengue Mosquito Traps.