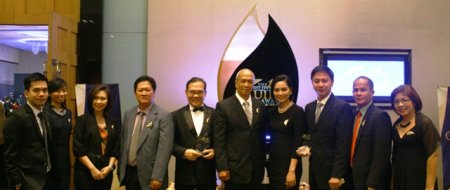 West Zone concessionaire Maynilad Water Services, Inc. (Maynilad) won as Finalist for its two communications initiatives during the 11th Philippine Quill Awards held last November 12, 2012 at the Crowne Plaza Galleria Manila in Ortigas, Pasig City.
The water company's "Maynilad sa Komunidad Helpdesk Program" won under the Communication Management Division, Customer Relations Category, for enhancing customer service delivery through the establishment of off-site helpdesks in barangay halls. This initiative enabled Maynilad to make itself more accessible and responsive to its customers.
Meanwhile, Maynilad's official company newsletter "Ripples" got noteworthy distinction on the Quill's Communication Creative Division, Publication Design Category. The newsletter's successful redesign effectively promoted the company's new vision, mission and core values within the organization, resulting in enhanced employee engagement.
"Receiving these awards from the International Association of Business Communicators/ Philippines (IABC/Phils.) is solid proof of the Maynilad organization's passion for excellence. We are deeply honored for the recognition, and we will certainly use it as inspiration to continue producing quality communications programs for the benefit of the people we serve," said Maynilad President and CEO Ricky P. Vargas.
The Philippine Quill Awards, held annually by the IABC/Phils., is the foremost mark of excellence and professional acknowledgment within business communication. It recognizes the most effective and most innovative communication initiatives in the country.
CAPTION: Maynilad's winning team led by Commercial and Marketing head Patrick Gregorio, Corporate Communications head Cherubim Ocampo-Mojica and Business Area Central B District head Bernard Padilla (3rd, 4th and 5th from right, respectively).