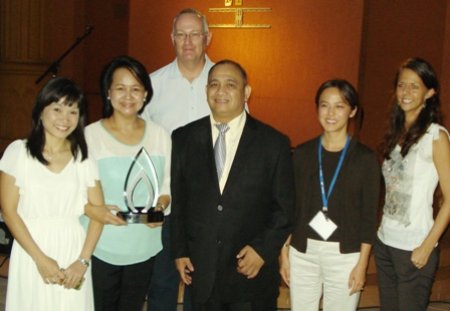 West Zone concessionaire Maynilad Water Services, Inc. (Maynilad) was recently hailed as the Overall Winner in the Drinking Water Safety Awards of the World Health Organization (WHO) and International Water Association (IWA).
Held in conjunction with the international Water Safety Conference in Kampala, Uganda, the Drinking Water Safety Awards aims to recognize achievements in the effective management of drinking water quality in low and middle-income countries.
Maynilad was unanimously chosen by a panel of foreign experts after it demonstrated the comprehensiveness, efficacy and replicability of its Water Safety Plan (WSP). A WSP details programs in ensuring the safety of drinking water, including risk assessment and contingency procedures in case of water contamination.
According to judging panel member Nick Pilgrim, "Maynilad submitted an excellent case study that was well presented and had good supporting data and information. Most importantly, the utility demonstrated that it can play an important role in promoting water safety planning in the region and internationally. The award bestowed on them embodies recognition and responsibility that Maynilad can take this important agenda forward."
Being the first of its kind in the Philippines, the Maynilad WSP was used as a model for the formulation of WSPs in other water districts in the country. Moreover, the WHO uses Maynilad's WSP in the Training Workbook on Water Safety Plans for Urban Systems. The WHOworkbook is being distributed in countries comprising the Western Pacific Region to facilitate the formulation of WSPs by water districts.
"Delivering safe and reliable water to our customers is at the heart of our business. We are honored and grateful to be recognized by the IWA and WHO for our efforts," said Maynilad President and CEO Ricky P. Vargas.
Based in the United Kingdom, IWA is a global network of over 10,000 water professionals who collaborate to promote the development and implementation of innovative and effective approaches to water management.
Maynilad is the largest private water concessionaire in the Philippines in terms of customer base. It is a concessionaire of the Metropolitan Waterworks and Sewerage System (MWSS) for the West Zone of the Greater Manila Area, which is composed of the cities of Manila (all but portions of San Andres & Sta. Ana), Quezon City (west of San Juan River, West Avenue, EDSA, Congressional, Mindanao Avenue, the northern part starting from the Districts of the Holy Spirit & Batasan Hills), Makati (west of South Super Highway), Caloocan, Pasay, Parañaque, Las Piñas, Muntinlupa, Valenzuela, Navotas and Malabon—all in Metro Manila; the cities of Cavite, Bacoor and Imus, and the towns of Kawit, Noveleta and Rosario—all in Cavite Province.
PHOTO CAPTION: Receiving the award for Maynilad are Quality, Environment, Safety and Health Management SAVP Francisco Arellano and Central Laboratory head Teresita Mancera (front row, 3rd and 2nd from left, respectively). With them are (from left) former WHO WPRO technical officer Mein Ling, AUSAID program officer David Sutterland, WHO Geneva's Jennifer de France, and IWA Water Safety Plan program officer Kirstende De Vette.