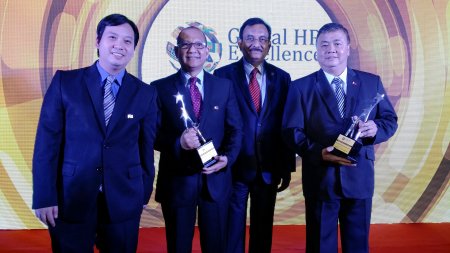 West Zone concessionaire Maynilad Water Services, Inc. (Maynilad) bagged two awards at the recently concluded Global HR Excellence Award in India. Maynilad won for its outstanding human resource strategies and employee wellness programs, which enriched the lives of its personnel and enabled them to attain the strategic goals of the company.
"We are very pleased to have won these awards because human resource management is at the core of our company\'s transformation," said Maynilad President and CEO, Victorico P. Vargas.
The award was presented to Maynilad during the 22nd World HRD Congress event in Mumbai, India. Maynilad is the lone awardee from the Philippines.
Organized by the World HRD Congress, together with the Institute of Public Enterprise of the government of India, the Global HR Excellence Award recognizes outstanding achievements of individuals and organizations in the field of human resource. The award is given during the Annual World HRD Congress which is the largest meeting of HR professionals from 131 countries. For the 2014 congress, almost 1,400 companies vied for awards in more than 30 categories.

Maynilad is the largest private water concessionaire in the Philippines in terms of customer base. It is the concessionaire of the MWSS for the West Zone of the Greater Manila Area, which is composed of the cities of Manila (all but portions of San Andres & Sta. Ana), Quezon City (west of San Juan River, West Avenue, EDSA, Congressional, Mindanao Avenue, the northern part starting from the Districts of the Holy Spirit and Batasan Hills), Makati (west of South Super Highway), Caloocan, Pasay, Parañaque, Las Piñas, Muntinlupa, Valenzuela, Navotas and Malabon—all in Metro Manila; the cities of Cavite, Bacoor and Imus, and the towns of Kawit, Noveleta and Rosario—all in Cavite Province.
In photo: (L-R) Mr. Mitchie Arcaina, Head, Learning and Development, Dr. Ricardo Jose Miranda, Head, Health Management, and Mr. Levi Diestro, Head, Human Resources, accepted two Global HR Excellence Awards at the 2014 Annual World HRD Congress in Mumbai, India. With them in the photo is Shri KS Jamestin, Director for Human Resources of Oil and Natural Gas Corporation and Chairman of the Global HR Excellence Awards.