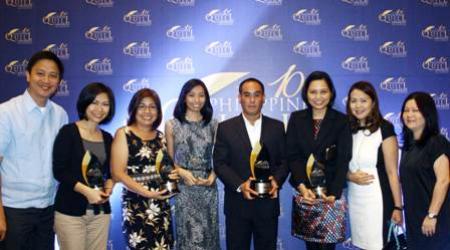 The International Association of Business Communicators Philippines (IABC/Philippines) recognized five communication initiatives of West Zone concessionaire Maynilad Water Services, Inc. (Maynilad) during the 10th Philippine Quill Awards held recently at the Crowne Plaza Galleria Manila in Ortigas, Pasig City.
Maynilad received an Award of Excellence for its "To the Beat of 6B" Customer Service Rally under the Communication Management Division – Special Events Category, for successfully inspiring the 2,000 employees and top executives of the company to work together to meet operational targets.
The water company also received three Awards of Merit for its "Meet and Greet with the Maynilad President" (Communication Management Division – Special Events Category), "Water Journey" audio disc and "Yakap" audiovisual presentation (Communication Skills Division – Audiovisual Category). Maynilad's Sewerage System Flyer was also honored as a Finalist in the Communication Creative – Publication Design Division.
"We are grateful to IABC/Philippines for the recognition we received. Aside from being testaments to the hard work and high standards maintained by our employees, these awards serve as inspirations for us to do even better in our communication efforts to be able to reach out to our customers and shareholders," said Maynilad president and CEO Ricky Vargas.
The Philippine Quill is the foremost mark of excellence in business communication, and recognizes the most effective and innovative communications initiatives in the country.
IN PHOTO: Receiving the Philippine Quill Awards are (L-R) Maynilad's Commercial and Marketing head Patrick Gregorio, Stakeholder Communications head Jennifer Rufo, Media and Government Relations officer Grace Laxa, Content Development specialist Karmina Alejandro, Business Area Operations head Christopher Lichauco, and Corporate Communications head Cherubim Ocampo-Mojica; and Y&R's chief operating officer Mary Buenaventura, and president and CEO Chiqui Lara.