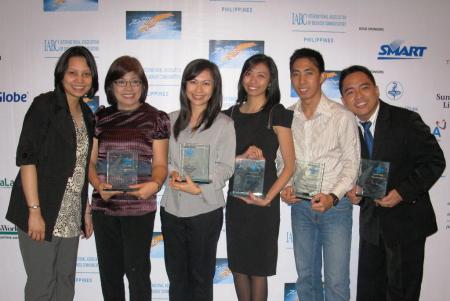 West Zone concessionaire Maynilad Water Services, Inc. (Maynilad) won five Merit Awards at the 2010 Philippine Quill Awards held last November 15 at the Crowne Plaza in Ortigas.
Maynilad was given noteworthy distinction on the Quill's Communication Creative Division by winning at the Interactive Media Design Category ("Aqueduct – the company intranet"), Publication Design Category ("More Than Just Water – The 2009 Maynilad Annual Report"), and at the Outdoor/3D Category ("Dumadaloy ang Ginhawa on Wheels").
Moreover, the private water concessionaire's "Ripples – the Maynilad official newsletter" was honored at the Publications Category (Communication Skills Division), and its "Maynilad Media Appreciation Night" was likewise recognized at the Special Events – Internal or External Category (Communication Management Division).
The Philippine Quill is awarded by the International Association of Business Communicators (IABC). It is the foremost mark of excellence and professional acknowledgment within business communication. The Award recognizes the most effective and most innovative communication initiatives in the country.
IN PHOTO: Maynilad's winning Communications team led by Cherubim G. Ocampo (Head, Corporate Affairs and Public Relations), with (L-R) Grace Laxa (Government and Media Relations Supervisor), Jennifer Casipit (Head, Internal Communications), Karmina Alejandro (Advertising and Promotions Specialist), Mark Ferdinand Pasion (Visual Communication Specialist), and Mark Isaiah David (Head, External Communications).