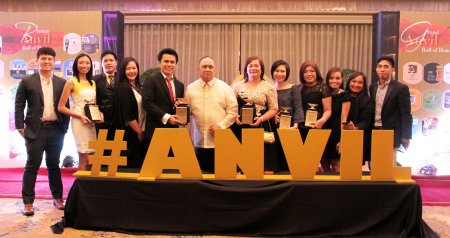 West Zone concessionaire Maynilad Water Services, Inc. (Maynilad) won five Gold Awards at the recently concluded 51st Anvil Awards held at the Shangri-La Hotel in Makati City.
Gold Anvil Awards were given for the "Maynilad Simpleng Ginhawa" initiative, which enabled rapport-building between the company's customers and field personnel; and "Think Maynilad Innofest," an activity that engages employees to think innovatively for the company (both under the PR Programs Directed at Specific Stakeholders Category).
The company was also given the highest recognition for its Public Relations Tools, particularly its 2013 Annual Report, "Grabe ang Maynilad" AVP, and 2013–2014 Sustainability Report.
"We are deeply honored by these recognitions from the Public Relations Society of the Philippines. These awards will continue to fuel our resolve to pursue communications initiatives that touch the lives of our various stakeholders," said Maynilad President and CEO Ramoncito S. Fernandez.
The Anvil Awards is organized by the PRSP.  It is the symbol of excellence in public relations in the Philippines, awarded by a distinguished multi-sectoral jury to outstanding public relations programs and tools designed and implemented in the past year.
IN PHOTO: Receiving the five Gold Anvil Awards for Maynilad are the company's Corporate Communications led by Jennifer Casipit-Rufo (5th from right), Human Resources represented by Teresita Montano (6th from right), and Corporate Quality, Environment, Safety and Health led by Engr. Francisco A. Arellano (7th from right).