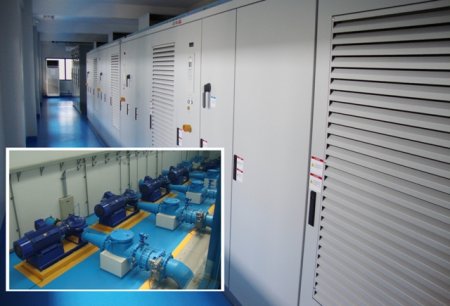 West Zone concessionaire Maynilad Water Services Inc. (Maynilad) has begun using energy efficient variable frequency drives (VFDs) in its 13 pumping stations and 14 online boosters to save on electricity costs. For this year alone, Maynilad hopes to save over 2.8 million kWh of electricity, which is equivalent to approximately P24 million.

VFDs are electronic controllers that adjust the speed of an electric motor, allowing the modulation of pump speed and flow rate according to actual demand. Aside from cutting power consumption, VFDs lessen mechanical and electrical stress, which reduces maintenance and repair costs.

"Pumping water and wastewater requires a lot of electricity. By using VFDs, we not only make our operations more cost-efficient, we also do our part in conserving much needed energy," said Maynilad president Ricky P. Vargas.

Maynilad is the largest private water concessionaire in the Philippines in terms of customer base. It is a concessionaire of the MWSS for the West Zone of the Greater Manila Area, which is composed of the cities of Manila (all but portions of San Andres and Sta. Ana), Quezon City (West of San Juan River, West Avenue, EDSA, Congressional, Mindanao Avenue, the northern part starting from the districts of the Holy Spirit and Batasan Hills), Makati (west of South Super Highway), Caloocan, Pasay, Paranaque, Las Pinas, Muntinlupa, Valenzuela, Navotas, and Malabon, all in Metro Manila; the cities of Cavite, Bacoor, and Imus, and the towns of Kawit, Noveleta and Rosario, all in the Cavite Province.

IN PHOTO: Variable frequency drives in use for Maynilad's PAGCOR pumping station. Maynilad is currently optimizing its operations to realize more savings in the years ahead.