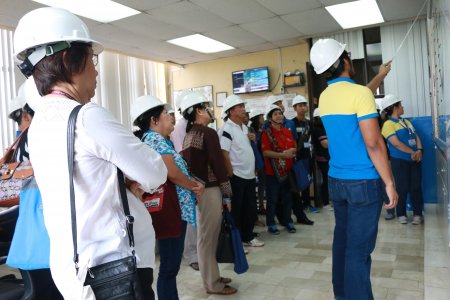 Maynilad Water Services, Inc. (Maynilad), UNESCO and UP spearheaded an international water seminar for educators and community workers from different countries to promote education as a key to addressing water-related development challenges.
The seminar, held recently at the University of the Philippines-Diliman, also aimed to enhance the usability and adaptability of the 15-module teaching-learning resource package titled "Water: Nature's Precious Gift". This resource package was designed to provide teachers with strategies in teaching the importance of water in the context of community development and environmental sustainability.
Participants in the seminar—which include representatives from Indonesia, Thailand, Vietnam, Sweden, Japan, United States, Sri Lanka and the Philippines—explored how the modules can be integrated into non-formal education activities, and made to fit the unique water situation of each country.
Besides the classroom sessions, seminar participants were also given a tour of Maynilad facilities to assist them in using particular modules that tackle water quality, wastewater treatment and water resource conservation.
"Education is essential to addressing water issues such as poor hygiene and sanitation, pollution of freshwater bodies, and water security. We are glad to be working with like-minded partners around the globe, as our combined efforts will enable us to reach more people and create a greater positive impact," said Maynilad President and CEO, Ricky P. Vargas.
The program is done in partnership with UP National Institute for Science and Mathematics Education Development, Foundation for the Promotion of Science and Mathematics Education and Research, Inc., Philippines National Commission for UNESCO, and UNESCO Southeast Asia Center for Lifelong Learning and Education for Sustainable Development.
IN PHOTO: Maynilad engineers explain the technology housed in its treatment facilities that produce potable drinking water for millions of Filipinos daily.