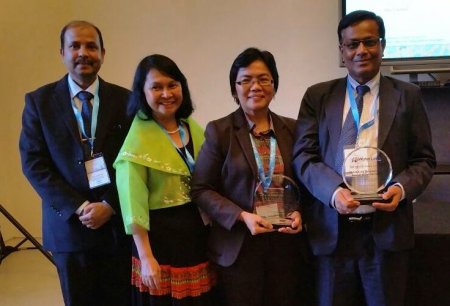 Maynilad Water Services, Inc. (Maynilad) recently won in the WaterLinks Awards for its Twinning Program that aimed to build the capacities of Nepal's Department of Water Supply and Sewerage (DWSS) in the fields of water loss management and water quality monitoring.
The WaterLinks Awards recognizes water operator partnerships (WOP) that achieve significant milestones in gaining improved access to water services, and scaling up of good practices. Maynilad and DWSS were awarded under the "Outstanding Outcomes Based on Impact" Category.
The recognition was given during the 3rd Global WOP's Congress and General Assembly of the Global Water Operators Partnership Alliance (GWOPA) in Barcelona, Spain.
Through the partnership funded by the Asian Development Bank (ADB), the water service provider for Nepal's Leknath municipality—Lekhnath Small Town Water Supply and Users Committee (LSTWSSUC)—was able to reduce its Non-Revenue Water (NRW) by 6%, increase number of customers by 23%, and enhance water availability. Consequently, LSTWSSUC was also able to increase its revenue by some 43%.
Meanwhile, through the mentorship of Maynilad and the World Health Organization, LSTWSSUC was also able to develop a local water quality testing protocol and conduct monitoring.
"We feel honored that the results achieved through this partnership have been recognized. Maynilad is proud to have played a role in improving water services in this part of Asia," said Maynilad President and CEO Ricky P. Vargas.

WaterLinks is a regional network of water services operators, practitioners and development partners. It was established by the ADB, International Water Association (IWA), and United States Agency for International Development (USAID), and later incorporated in the Philippines as a non-profit organization.
Maynilad is the agent and contractor of the Metropolitan Waterworks and Sewerage System (MWSS) for the West Zone of the Greater Manila Area, which is composed of the cities of Manila (certain areas), Quezon City (certain areas), Makati (certain areas), Caloocan, Pasay, Parañaque, Las Piñas, Muntinlupa, Valenzuela, Navotas and Malabon—all in Metro Manila; the cities of Cavite, Bacoor and Imus, and the towns of Kawit, Noveleta and Rosario—all in Cavite Province.
PHOTO CAPTION:
WaterLinks Partnership Coordinator Yolanda Gomez (2nd from left) after presenting the 2015 WaterLinks Award to (from left) Nepal's Department of Water Supply and Sewerage Deputy Director General Sunil Kumar Das, Maynilad Water Academy Head Rodora Gamboa, and Nepal's Secretary to the Ministry of Urban Development Ramdeep Sah.