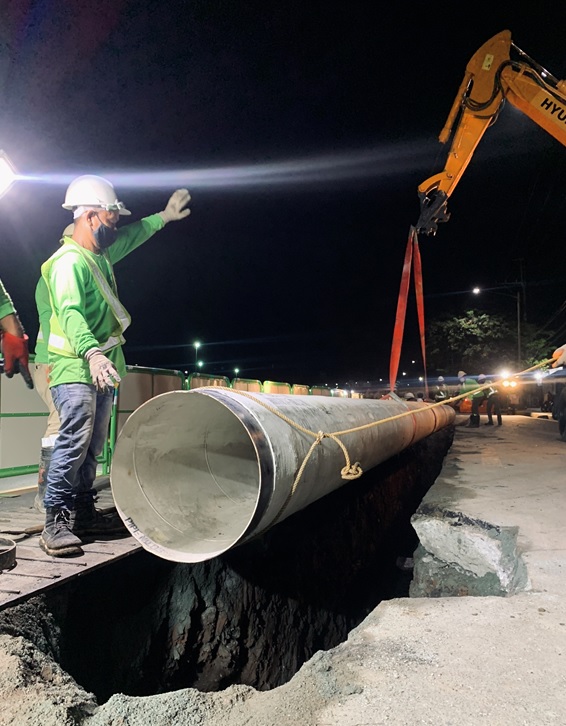 West Zone concessionaire Maynilad Water Services, Inc. (Maynilad) aims to replace a total of 173 kilometers of old, leaky pipes this year despite quarantine restrictions, in line with its program to upgrade the distribution system and reduce water losses.
For 2021, Maynilad is investing Php 1.8 billion for pipe replacement projects in various portions of its concession area. Once completed, this will bring the total length of pipes replaced to 2,869 kilometers, or 72% of the distribution system that the company inherited over 13 years ago following the 2007 re-privatization. These pipe replacement activities will also allow Maynilad to recover around 33 MLD (million liters per day) of water, which is enough to supply the needs of around 33,000 households.
As of end of March 2021, pipe replacements completed were in Valenzuela, Caloocan, Quezon City, Las Pinas and other locations. This includes pipelines that Maynilad had to realign to give way for various government projects such as the construction of MRT 7, among others.
"Our pipe installation activities have lately become more challenging because of quarantine-related mobility restrictions. Nevertheless, we persist in implementing these network upgrades, as it will help to reduce water losses and increase water pressure for our customers," said Maynilad Chief Operation Officer Randolph T. Estrellado.
Maynilad is the largest private water concessionaire in the Philippines in terms of customer base. It is the concessionaire of the MWSS for the West Zone of the Greater Manila Area, which is composed of the cities of Manila (certain portions), Quezon City (certain portions), Makati (certain portions), Caloocan, Pasay, Parañaque, Las Piñas, Muntinlupa, Valenzuela, Navotas and Malabon all in Metro Manila; Cavite City, and the towns of Bacoor, Imus, Kawit, Noveleta and Rosario, all in Cavite Province.