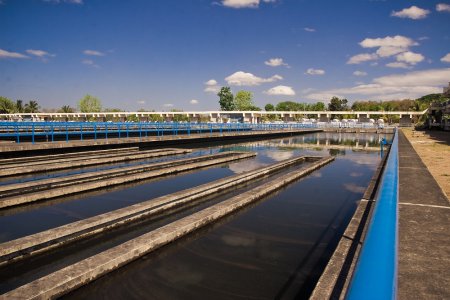 West Zone concessionaire Maynilad Water Services, Inc. (Maynilad) is investing an estimated amount of P7 billion for the upgrade of its La Mesa Water Treatment Plants (LMTP) 1 and 2 in Quezon City. These facilities have a combined production capacity of 2,400 million liters per day (MLD), and supplies potable water for some nine million Maynilad customers.
Among the upgrades that will be implemented involve enhancing the facilities' treatment capacity, retrofitting structures for improved earthquake resiliency, and automating processes for more reliable operations.
Targeted for completion in 2020, this massive LMTP 1 and 2 improvement project will enhance the treatment technology used in these facilities to address the problem of increasing turbidity levels in the raw water coming from Angat and Ipo Dams. Maynilad is upgrading the treatment capacity of LMTP 1 and 2 from only 300 NTU (nethelometric turbidity units) to 2,000 NTU.
Turbidity level refers to the sediment content in the dams' raw water, which increases either due to soil erosion in the watersheds after heavy rains or due to the scraping of mineral deposits from the dams' bottom during drought periods.
"Investment in additional treatment technologies is necessary given the dramatic shifts in raw water quality brought on by climate change. With this upgrade, water service to our customers will no longer be affected whenever turbidity level in the raw water increases," said Chief Operating Officer Randolph T. Estrellado.
Maynilad President and CEO Ramoncito S. Fernandez said this project is part of the company's P42-billion capital expenditure plan for the period 2013 to 2017, designed to improve water infrastructure and address water security challenges.
"We are pursuing our Capex projects despite the delayed implementation of the tariff adjustment because we have an obligation to our customers, and that includes pursuing the projects that will sustain improved service levels for current and future water consumers," Fernandez said.
Maynilad is the largest private water concessionaire in the Philippines in terms of customer base. It is the agent and contractor of the Metropolitan Waterworks and Sewerage System (MWSS) for the West Zone of the Greater Manila Area, which is composed of the cities of Manila (certain portions), Quezon City (certain portions), Makati (west of South Super Highway), Caloocan, Pasay, Parañaque, Las Piñas, Muntinlupa, Valenzuela, Navotas and Malabon all in Metro Manila; the cities of Cavite, Bacoor and Imus, and the towns of Kawit, Noveleta and Rosario, all in Cavite Province.