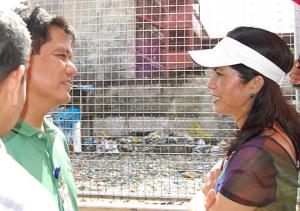 Maynilad, the private water concessionaire for the West Zone, will support the multisectoral effort led by "Kapit-Bisig Para sa Ilog Pasig" to revive Pasig River. The project is a partnership between ABS-CBN Foundation and the Department of Environment and Natural Resources.Maynilad drafted a five-year sewerage and sanitation plan that includes the upgrading of its Central Manila Sewerage System to increase the company's sewerage treatment capacity. Maynilad will also install additional sewer service connections within their existing sewerage system.
To intensify their sanitation program in unsewered areas in the West Zone, Maynilad will regularly collect septage from customer septic tanks for treatment.
In the photo, ABS-CBN Foundation managing director Gina Lopez and Maynilad Wastewater Plant Operation head Rey Angeles discuss the water company's plans to help save Pasig River during their recent visit to Dario Creek and Talayan Creek in Quezon City and Estero de Paco in Manila.