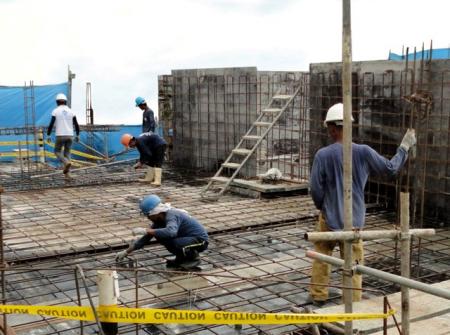 Metro Pacific Investments Corporation and DMCI Holdings-led Maynilad Water Services, Inc. (Maynilad) is set to build five wastewater treatment plants in Quezon City. The new treatments plants are expected to benefit some 6,000 households and establishments once completed in 2012.
The new sewage treatment plants were designed to replace the existing communal septic tanks under the Quezon City Communal System (QCCS), which was constructed by the People\'s Homesite and Housing Corporation (PHHC) in the 1950s.
Maynilad Sewerage and Sanitation Department head Antonio Garcia said the new facilities will be built at Congressional Avenue, Grant St., Legal St., Roosevelt Avenue, and Road-A St.  in Quezon City. "Clearing these areas of informal settlers caused us some delays but with the assistance of the Metropolitan Waterworks and Sewerage Services, Quezon City government, National Housing Authority and other government agencies, we are finally moving forward with our sewerage projects for Congressional Ave., Legal St. and Grant St.," said Garcia.
Meanwhile, the sewerage projects in Roosevelt Ave. and Road-A St. are still in the bidding stage. Construction of the facilities will commence once the project contracts have been awarded to the winning bidders.
The construction of the five wastewater treatment facilities in Quezon City is in line with Maynilad's goal of improving the sanitation and health conditions of communities within its concession area, and supporting multi-sectoral efforts to clean up major water systems such as the Pasig River and Manila Bay.
"Once these treatment plants are completed, the wastewater generated by households and establishments connected to our sewer line will be given thorough treatment before discharge to nearby creeks. We will utilize processes capable of biologically treating wastewater to meet and even exceed effluent standards set by the Department of Environment and Natural Resources," Garcia said. "This initiative will improve water quality in receiving bodies of water and reduce the incidence of water-borne diseases in the area."
Maynilad is the private water and wastewater services provider for the West Zone which is composed of the cities of Manila (all but portions of San Andres and Sta. Ana), Quezon City (west of San Juan River, West Avenue, EDSA, Congressional, Mindanao Avenue, the northern part starting from the Districts of the Holy Spirit and Batasan Hills), Makati (west of South Super Highway), Caloocan, Pasay, Parañaque, Las Piñas, Muntinlupa, Valenzuela, Navotas and Malabon—all in Metro Manila; Cavite City, and the towns of Bacoor, Imus, Kawit, Noveleta and Rosario—all in Cavite Province.