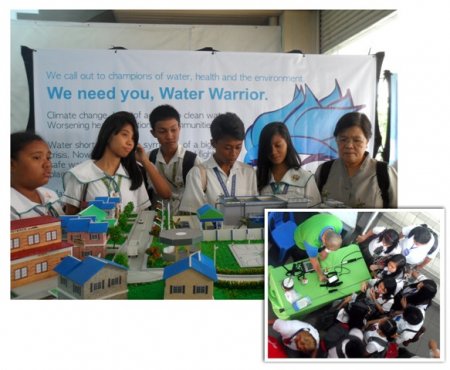 West Zone concessionaire Maynilad Water Services, Inc. (Maynilad) introduced students to its water and wastewater operations during the First Philippine International Science Fair held recently at Ynares Center in Antipolo City.
The event welcomed students and aspiring scientists from Bangladesh, Brunei, Malaysia, Singapore, South Korea, Taiwan, Thailand and the Philippines to a three-day exhibit that aims to cultivate an interest for science and technology among the youth.
The Maynilad exhibit featured a diorama of its Sewage Treatment Plant, which demonstrated how wastewater is collected and treated before safe discharge to a receiving body of water. Students were also exposed to Maynilad's state-of-the-art leak detection gadgets and given water sampling exercises to show how water potability is determined and monitored.
Through its exhibit, Maynilad sought to highlight among students the importance of water in building healthier communities and protecting the environment.
"We constantly seek opportunities to share our knowledge, particularly to young students who will become the country's future leaders. Through events such as this science fair, we hope to develop a greater appreciation for the effort that goes into providing potable water and treating wastewater," said Maynilad President and CEO Ricky Vargas.
IN PHOTO: Students viewing a Maynilad Sewage Treatment Plant diorama and high-tech leak detection gadgets (inset) at the Maynilad booth in the First Philippine International Science Fair.