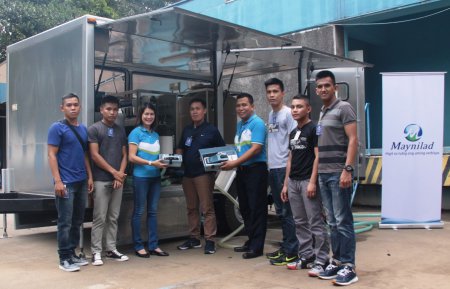 In support of the Armed Forces of the Philippines (AFP), West Zone concessionaire Maynilad Water Services, Inc. (Maynilad) is deploying its mobile water treatment plant to Marawi so it can provide potable water for the troops in the war-stricken city.
Maynilad's mobile water treatment plant, which uses reverse osmosis and chlorination technology to remove bacteria and contaminants from any water source, can produce about 7,000 gallons of water per day—enough to meet the daily drinking requirements of some 17,000 people.
Maynilad recently turned over the mobile water treatment plant to the AFP's Civil Relations Service after training its personnel on the proper operation and maintenance of the equipment.
"Clean water is a basic need of our soldiers, so we appreciate this support from Maynilad. We also plan to share the water produced by the mobile treatment plant with the displaced Maranao families in the evacuation centers," said Brig. Gen. Joseph M. Acosta, Surgeon General of the AFP.
Maynilad also donated clothes, 500 pieces of bottled water, and 150 portable water microfilters to the soldiers and the families in the evacuation areas. This Maynilad initiative is being done in partnership with the Metropolitan Waterworks and Sewerage System (MWSS) headed by Administrator Reynaldo Velasco, who responded to the request of Brig. Gen. Acosta to augment the diminishing supply of potable water for government operating troops and civilians in Marawi City.
"Aside from meeting the immediate need for potable water, Maynilad is also looking into providing more sustainable ways of helping Marawi once the war is over and rehabilitation efforts begin," said Maynilad President and CEO Ramoncito S. Fernandez.
Maynilad is the largest private water concessionaire in the Philippines in terms of customer base. It is the agent and contractor of the MWSS for the West Zone of the Greater Manila Area, which is composed of the cities of Manila (certain portions), Quezon City (certain portions), Makati (west of South Super Highway), Caloocan, Pasay, Parañaque, Las Piñas, Muntinlupa, Valenzuela, Navotas and, Malabon, all in Metro Manila; the cities of Cavite, Bacoor and Imus, and the towns of Kawit, Noveleta, and Rosario, all in Cavite Province.
PHOTO CAPTION: Maynilad officials Antonette de Ocampo and Ronaldo Padua (3rd and 5th from left, respectively) turned over the mobile water treatment plant to the soldiers of the Civil Relations Service of the Armed Forces of the Philippines, led by SSG. Felipe Caoile Jr. (center). The Maynilad mobile water treatment plant to be loaned to the AFP can provide 7,000 gallons of potable water per day, for the drinking needs of soldiers and displaced families in war-stricken Marawi.