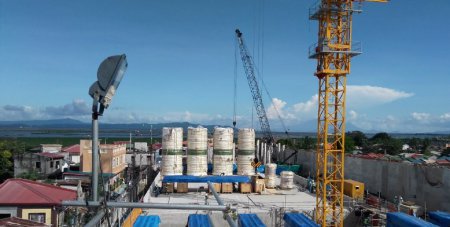 West Zone concessionaire Maynilad Water Services, Inc. (Maynilad) is spending P6.75 billion to build a new water treatment plant that will provide an additional 150 million liters per day (MLD) of potable water for its customers in the south.
This new facility—currently being constructed near Maynilad's existing water treatment facility in Putatan, Muntinlupa—will also source raw water from Laguna Lake. Targeted for completion in May 2018, the "Putatan Water Treatment Plant 2" (PWTP 2) will enhance supply reliability for some 1.2 million Maynilad customers in Muntinlupa, Las Piñas and Cavite.
"Climate change conditions have made the quality of raw water from Laguna Lake more variable, and this often forced us to reduce water output. With the enhanced treatment capacity of this new facility, we can keep our production stable and ensure 24-hour water supply at a stronger pressure of 16 psi (pounds per square inch) for our customers in the south," said Maynilad Chief Operating Officer Randolph T. Estrellado,
Maynilad's new PWTP 2 is part of the water company's P42-billion capital expenditure plan for the period 2013 to 2017, which aims to improve water infrastructure and address water security challenges.
"As the population grows and the need for water supply becomes more urgent, we continue to pursue projects that will ensure long-term water security for our customers. The construction of this second treatment facility in Putatan is part of this effort. Through it, we can enhance service levels for existing customers and also sustain expansion goals," said Maynilad President and CEO Ramoncito S. Fernandez.
Maynilad utilizes various water treatment technologies that effectively convert water from Laguna Lake into potable, drinking water. Among these technologies are Dissolved Air Flotation (DAF), Biological Activated Filtration (BAF), Ultrafiltration (UF), Reverse Osmosis (RO) and Chlorination.
The new PWTP 2 also features additional oxidation tanks on its BAF and DAF systems to address manganese presence in the raw water from Laguna Lake. Moreover, its RO process has high salt rejection capacity to eliminate total dissolved solids and other impurities in the lake water.
With the completion of PWTP 2, Maynilad now has four water treatment plants with a combined production capacity of about 2,700 MLD for its over 9 million customers in the West Zone.
Maynilad is the largest private water concessionaire in the Philippines in terms of customer base. It is the agent and contractor of the Metropolitan Waterworks and Sewerage System (MWSS) for the West Zone of the Greater Manila Area, which is composed of the cities of Manila (certain portions), Quezon City (certain portions), Makati (west of South Super Highway), Caloocan, Pasay, Parañaque, Las Piñas, Muntinlupa, Valenzuela, Navotas and Malabon all in Metro Manila; the cities of Cavite, Bacoor and Imus, and the towns of Kawit, Noveleta and Rosario, all in Cavite Province.