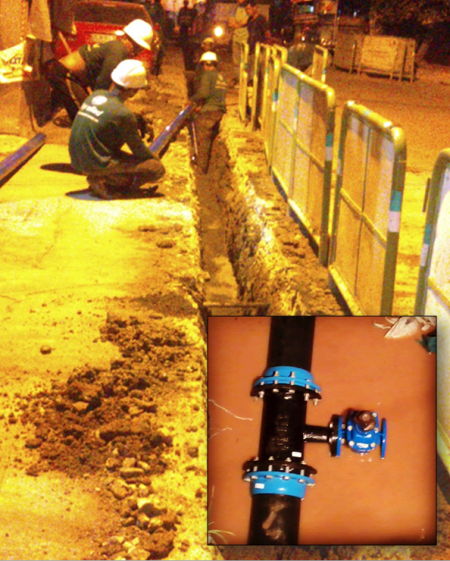 West Zone concessionaire Maynilad Water Services, Inc. (Maynilad) invested PhP1.1 billion in 2013 to replace 168 kilometers of old, leaky pipes in its service area. The completed projects were located in various portions of Caloocan, Malabon and Quezon City. The pipe replacement projects allowed Maynilad to recover some 88 million liters per day (MLD) of potable water, which is enough to supply 88,000 households.
"Since our re-privatization in 2007, we have replaced around 1,108 km of damaged pipes. Investing in the modernization of our water distribution system has not only made our services more efficient, it has also resulted in more jobs for our countrymen," said Maynilad President and CEO Ricky P. Vargas.
For 2013, Maynilad was able to generate more than 3, 000 jobs from its pipe replacement projects. These jobs include those generated by the contractors and suppliers of the company.

Maynilad is the largest private water concessionaire in the Philippines in terms of customer base. It is the concessionaire of the MWSS for the West Zone of the Greater Manila Area, which is composed of the cities of Manila (all but portions of San Andres & Sta. Ana), Quezon City (west of San Juan River, West Avenue, EDSA, Congressional, Mindanao Avenue, the northern part starting from the Districts of the Holy Spirit & Batasan Hills), Makati (west of South Super Highway), Caloocan, Pasay, Parañaque, Las Piñas, Muntinlupa, Valenzuela, Navotas and Malabon all in Metro Manila; the cities of Cavite, Bacoor and Imus, and the towns of Kawit, Noveleta and Rosario, all in Cavite Province.