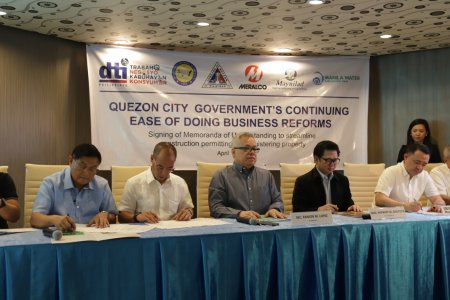 Quezon City residents applying for new water service connections with Maynilad Water Services, Inc. (Maynilad) will now get faster application approvals, as the processing of the required excavation permits and restoration works will be trimmed down from the current 21 processing days to only 10 processing days, and will entail less visits to the city hall.
This was made possible as Maynilad recently signed a Memorandum of Understanding with the Quezon City local government, initiating process improvements to streamline how city residents apply for new water service connections, in line with QC's efforts to promote ease of doing business among its constituents.
Present during the MOU signing were (from left) MWSS Administrator Reynaldo Velasco, Maynilad Customer Experience and Retail Operations Head Christopher Lichauco, Department of Trade and Industry Secretary Ramon Lopez, QC Mayor Herbert Bautista,  and Maynilad Chief Operating Officer Randolph Estrellado.
"As a water service company, we always strive to look for ways to enhance customer experience, and this partnership with the local government of Quezon City is a huge step toward that goal. It is our hope that we will be able to forge similar partnerships with the other cities and municipalities within our concession area," Estrellado said.