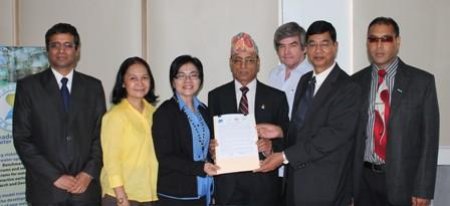 West Zone concessionaire Maynilad Water Services, Inc. (Maynilad) recently signed a Memorandum of Understanding with the Department of Water Supply and Sewerage (DWSS) and Lekhnath Small Town Water Supply and Sanitation User Committee (LSTWSSUC) of Nepal.
Under the agreement, Maynilad will provide the Nepalese water department and committee with technical support on water supply operation, water quality testing, non-revenue water and water system improvement.
"We look forward to sharing our learnings and expertise with the water utility districts of Nepal. ManyAsian countries are looking for sustainable water solutions and we are glad to assist them in this regard," said Maynilad President and CEO Ricky Vargas.
IN PHOTO: (L-R) Delegates from Nepal and WHO, Rajeeb Ghimire (Sr. Divisional Engineer-CHRDU), Yolanda Gomez (Consultant, ADB), Rodora Gamboa (Head, Maynilad Water Academy), Ishwori Paudyal (Director General, DWSS), Terrence Thompson (Sr. Environmental Adviser – WHO), Chandra Krishna Karmacharya (Chairman, Leknath Small Town Water Supply and Sanitation User Committee), and Shiva Amatya (Office Chief/ Engineer, LWSS) will spend a few days in Maynilad to learn from its best practices.