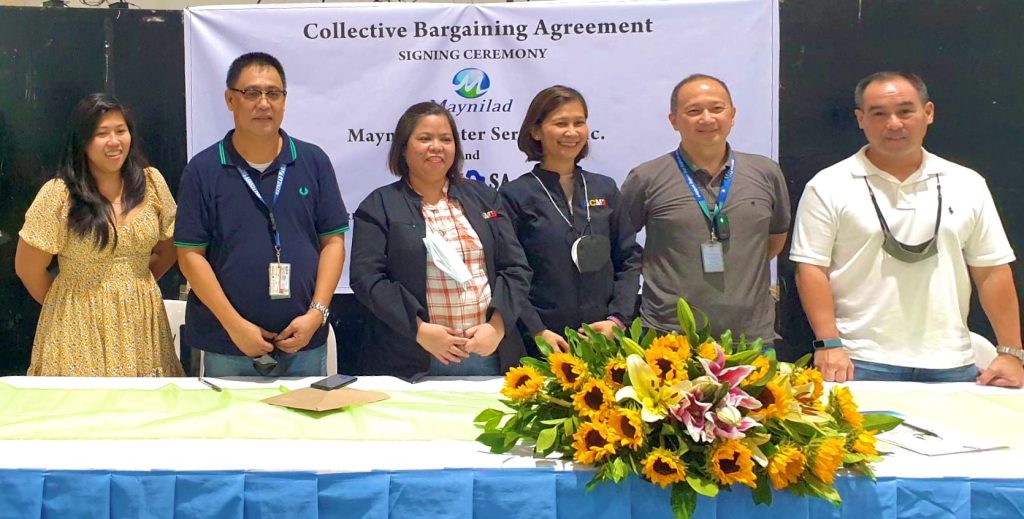 Officials of Maynilad Water Services, Inc. (Maynilad) and the Maynilad Water Supervisors Association (MWSA) recently signed the 2021-2023 collective bargaining agreement (CBA), which provides for the increase in salary and welfare benefits of the company's more than 300 supervisor employees.
Present during the CBA signing were (from left) MWSA vice president Jessimay C. Salas, MWSA president Josefino G. Santos, Department of Labor and Employment conciliator-mediators Estelita Bautista and Khristine Joy Mary Vergara, Maynilad Human Resources head Martin B. De Guzman, and Maynilad Customer Experience and Retail Operations head Christopher J. Lichauco.
The CBA signing with the supervisors' union comes on the heels of the signing of the new CBA between Maynilad and its rank-and-file union, the Maynilad Water and Sewerage Union-Philippine Transport Workers Group Organization, which covers more than 1,100 employees. These developments signify the strong partnership between Maynilad management and employees, who commit to continue working together toward achieving the company's business growth and customer service excellence goals.