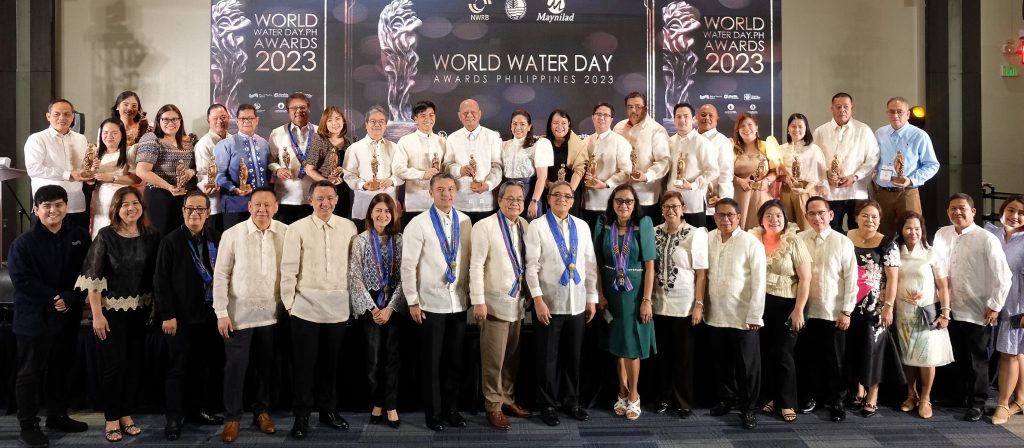 West Zone concessionaire Maynilad Water Services, Inc. (Maynilad)—in partnership with the National Water Resources Board (NWRB) and the Department of Environment and Natural Resources (DENR)—honored 21 water and environment champions at the World Water Day Philippines Awards 2023 (WWD.PH Awards) held last March 22 in Pasay City.
Recipients of Maynilad's "Water Warrior Award for Advocacy Leadership" were Caloocan City Vice Mayor Karina Teh, ABS-CBN journalist Alvin Elchico, the Quezon City Climate Change Education Department, and the Million Trees Foundation, for actively raising awareness on water sustainability and environmental responsibility in their respective professions and initiatives.
NWRB's "Water Wise Award" went to the Cebu Technology University, Holcim Philippines Inc., and West Cebu Industrial Park Developers, Inc., for their exemplary water management practices consistent with the agency's regulatory mandate and advocacy.
The "Huwarang Lingkod Tubig Award" recipients of Local Water Utilities Administration (LWUA) were Baguio Water District in Luzon, Silay Water District in the Visayas, and General Santos City Water District in Mindanao, for being model water districts in water conservation and environmental initiatives.
Meanwhile, the National Irrigation Administration (NIA) named as "Most Outstanding Irrigators' Associations" the Makabilog Maynabo Tambo Irrigators Association, San Agustin San Luis Irrigators Association, Inc., and Bayawan United Farmers Irrigators Association.
Efforts in Laguna de Bay rehabilitation were also recognized through the "Kampeon ng Lawa Awards" of the Laguna Lake Development Authority (LLDA). These were given to the Local Government of Teresa, Rizal; the University of the Philippines Training Center for Applied Geodesy and Photogrammetry (UPTCAGP); and the Department of Science and Technology-Advanced Science and Technology Institute (DOST-ASTI).
The DENR-Environmental Management Bureau's "Water Leadership Award" went to Adem Inovejas of Project Blue PH for his initiative to design innovative boats made entirely out of recycled and sustainable materials.
Completing the roster of honorees were Metro Pacific Water's "Kampeon ng Kalikasan" awardee Cagayan de Oro City Water District, Aboitiz InfraCapital's "Agos ng Kinabukasan" awardee San Pablo City Water District (SPCWD); and the PWWA "Lingkod Tubig at Kalikasan" awardees Go Share and Philippine Bamboo Industry Development Council.
In his message during the event, Maynilad President and CEO Ramoncito S. Fernandez underscored the need to work together for the environment, in keeping with this year's World Water Day theme, "Accelerating change through partnerships and cooperation." He thanked the WWD award recipients and acknowledged their role in promoting environmental causes.
The WWD.PH Awards serves as the culminating event of the country's week-long celebration of World Water Day.
Since 2015, the WWD.PH Awards has recognized a total of 114 individuals, institutions, and programs that have contributed to achieving water and water-environment sustainability in the country. Each WWD.PH-participating government agency and private company submits their nominees, which are then screened and vetted by a multi-organization committee before being included in the list of awardees. Among this year's partners are Metro Pacific Water, Aboitiz InfraCapital, LLDA, NIA, LWUA, and Philippine Water Works Association.