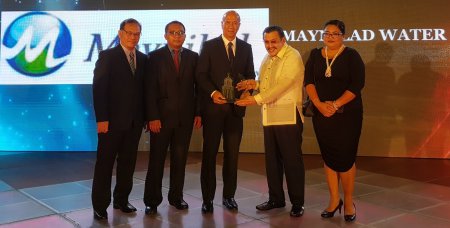 West Zone concessionaire Maynilad Water Services, Inc. (Maynilad) was among the City of Manila's top business taxpayers for the year 2016.
Maynilad ranked seventh among the Top 10 companies with the highest recorded business tax payments last year and was recognized during a testimonial dinner held on the occasion of the 446th Araw ng Maynila.
The water company has earned the distinction for four consecutive years now, highlighting its corporate responsibility as a water service provider and partner of the government in economic and community development.
Other companies that made it to the list were the Manila Electric Co. (Meralco), International Container Terminal Services, Inc., SM Prime Holdings, Inc., Mercury Drug Corp., Unilever Philippines, Inc., Asian Terminals, Inc., Philippine Star Daily, Inc., Puregold Price Club, Inc., and Golden Arches Development Corp. (McDonald's).
"Prompt tax payments are needed to reinforce the city's economic and social development programs. Maynilad is happy to do its part to support the City of Manila in this endeavor," said Maynilad President and CEO Ramoncito S. Fernandez.
Maynilad provides water and wastewater services to over nine million customers in the West Zone of the Greater Manila Area. The company has three Business Area offices that are located in Arroceros, Manila.
PHOTO CAPTION: Manila Mayor Joseph Estrada hands the Top Ten Business Taxpayers Award to Maynilad, represented by its Central Business District head Bernard Padilla (center) and Business Area heads (from left) Valentino Del Rosario, Flordivino Buen, and Maricon Concepcion, during a recognition ceremony on the occasion of the 446th Araw ng Maynila.