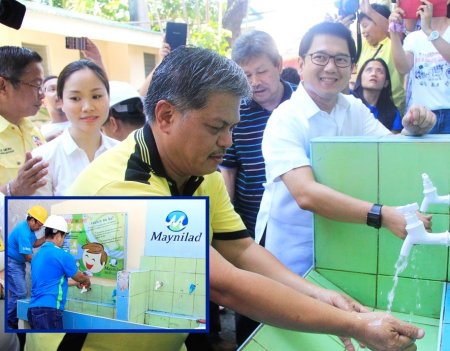 West Zone concessionaire Maynilad Water Services, Inc. (Maynilad) sent employee-volunteers to refurbish classrooms and fix the water and sanitation facilities of 19 public schools in Manila, Muntinlupa, Navotas, Quezon City, Caloocan City and Valenzuela City. This was in support of the Brigada Eskwela program of the Department of Education (DepEd).
Maynilad also donated 10 desktop computer terminals to Gen. Gregorio del Pilar Elementary School in Tondo, Manila, which lost learning equipment in a fire last year. The company likewise pledged to convert one of its dilapidated rooms to a computer laboratory.
More Maynilad drink-wash areas will be built in 40 more schools this year.
"We are happy to be regular participants in DepEd's Brigada Eskwela, as it complements our own efforts of making schools more conducive for learning," said Maynilad President and CEO Ricky Vargas.
PHOTO CAPTION: Department of Education Secretary Bro. Armin Luistro and Quezon City Mayor Herbert Bautista check the water quality and pressure of the drink-wash area installed by Maynilad at Carlos Albert High School in Quezon City. Also visible in the photo are Quezon City Congressman Francisco Calalay Jr. and Councilor Jessica Castelo-Daza (INSET) Maynilad employees as they install the drink-wash area.