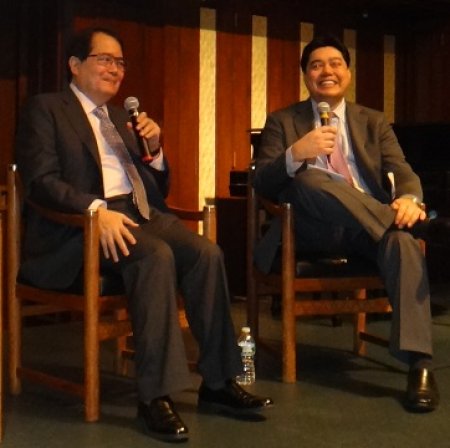 Renowned CEO and philanthropist Loida Nicolas Lewis called Maynilad Water Services, Inc. (Maynilad) President Ricky P. Vargas a "miracle worker" for leading the water company as it went through a difficult transition towards improved organizational efficiency.

This after Vargas' recent presentation before other business executives about the growth of Maynilad during the Philippine-American Chamber of Commerce in New York, USA.

In his talk, Vargas noted that before the privatization of water and wastewater services, only 60 percent of Metro Manila had water, and many received their water at very low pressure. The West Zone, in particular, had the oldest pipes in Asia.

Since the government did not have the resources to implement the necessary water infrastructure rehabilitation, MWSS privatized its water and wastewater operations in 1997, with Maynilad taking over the West Zone concession area.

After encountering operational, financial and regulatory problems in its first 10 years, Maynilad was reprivatized in 2007, with Metro Pacific Investments Corporation and DMCI Holdings, Inc. taking over the troubled water company.

Since then, Maynilad has been implementing an aggressive capital expenditure program to improve and expand water services in the West Zone.

From only 677,985 accounts in 2006, Maynilad increased its customers by more than 58% to 1,073,508 accounts by the end of 2012. Of its current customers, 96% have 24-hour water supply—a dramatic increase from the 32% which enjoyed the same service level in 2006 before Metro Pacific and DMCI took over. Meanwhile, 99.8% of its customers now have water pressure of at least 7 pounds per square inch (psi).

Vargas reveals that the company is now looking to expand its business beyond the West concession. It is also seeking to enhance operations efficiency by automating its systems and developing other water sources to reduce reliance on Angat Dam.

Maynilad is the largest private water concessionaire in the Philippines in terms of customer base. It is a concessionaire of the Metropolitan Waterworks and Sewerage System (MWSS) for the West Zone of the Greater Manila Area, which is composed of the cities of Manila (all but portions of San Andres & Sta Ana), Quezon City (west of San Juan River, West Avenue, EDSA, Congressional, Mindanao Avenue, the northern part starting from the Districts of the Holy Spirit & Batasan Hills), Makati (west of South Super Highway), Caloocan, Pasay, Parañaque, Las Piñas, Muntinlupa, Valenzuela, Navotas and Malayan all in Metro Manila; the cities of Cavite, Bacoor and Imus, and the towns of Kawit, Noveleta and Rosario, all in the Cavite Province.

IN PHOTO: Maynilad President and CEO Ricky Vargas (left) with PACC Vice President Michael Nierva during the "Conversation with leaders" forum of the Philippine-American Chamber of Commerce (Photo courtesy of The FilAm Magazine).