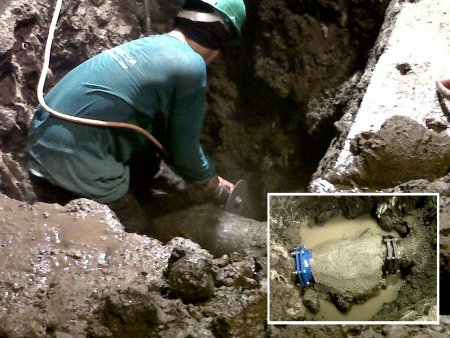 West Zone concessionaire Maynilad Water Services, Inc. (Maynilad) recently repaired two major leaks along Coastal Road. The first leak occurred Tuesday morning near MIA Road in Paranaque City, after a portion of the 30-year old cast iron pipeline in the area developed a 6.5 feet long crack. To minimise its water losses and minimise public inconvenience, Maynilad immediately isolated the area to lessen areas with reduced pressure. Repair of the said leak was completed Wednesday evening.
"It took a while for our contractors to repair the leak because the pipe was under the center island. To expose the leaking pipe, they had to break parts of the center island with double pavement underneath," said Engr. Ryan Jamora, head of Central Non Revenue Water Engineering and Construction of Maynilad.
Also on Thursday, another leak was reported along Evangelista St., near Coastal Road in Bacoor, Cavite. This time, the water leak was from a hydrant valve. Maynilad's contractor was able to repair the leak the same evening.
Since its re-privatization in 2007, Maynilad has repaired over 180,000 leaks in its concession area, enabling it to recover nearly 700 million liters per day (MLD) of potable water. This year, the company allotted over P2 billion for its non-revenue water reduction program, which covers meter and pressure management, active leakage control, primary line assessment, selective pipe replacement, and district metered area management.
Maynilad is the largest private waterconcessionaire in the Philippines in terms of customer base. It is a concessionaire of the MWSS for the West Zone of the Greater Manila Area, which is composed of the cities of Manila (all but portions of San Andres & Sta. Ana), Quezon City (west of San Juan River, West Avenue, EDSA, Congressional, Mindanao Avenue, the northern part starting from the Districts of the Holy Spirit & Batasan Hills), Makati (west of South Super Highway), Caloocan, Pasay, Parañaque, Las Piñas, Muntinlupa, Valenzuela, Navotas and Malabon, all in Metro Manila; the cities of Cavite, Bacoor and Imus, and the towns of Kawit, Noveleta and Rosario, all in Cavite Province.
PHOTO: Maynilad contractor repairing the major leak near MIA Road. Exposing the pipe took longer than usual because it was under the center island.