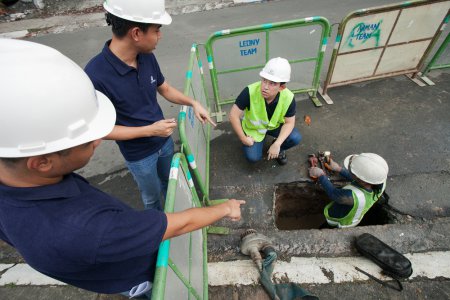 West Zone concessionaire Maynilad Water Services, Inc. (Maynilad) plugged a total of 26,792 pipe leaks in 2017, bringing the company's total leak repairs to 316,757 since its re-privatization in 2007.
Leak repair is a vital component of Maynilad's Non-Revenue Water (NRW) Management Program, which seeks to bring down physical and commercial water losses. For 2017 alone, Maynilad spent P260 million for leak detection and repair projects within its concession area.
Maynilad has already invested P21.7 billion for its NRW Management Program since 2007. About P600 million of this total investment has been dedicated for leak repair projects. Other initiatives under the NRW Management Program are selective pipe replacement, network diagnostics, establishment of District Metered Areas, and replacement of old water meters.
"The number of pipe leaks we repair every year has been going down, thanks to our sustained pipe replacement activities. We now focus on diagnosing our primary lines to ensure that leaks in these major pipe systems are also addressed. This will help us to further bring down water losses and improve supply management," said Maynilad President and CEO Ramoncito S. Fernandez.
Maynilad is the largest private water concessionaire in the Philippines in terms of customer base. It is the agent and contractor of the Metropolitan Waterworks and Sewerage System (MWSS) for the West Zone of the Greater Manila Area, which is composed of the cities of Manila (certain portions), Quezon City (certain portions), Makati (west of South Super Highway), Caloocan, Pasay, Parañaque, Las Piñas, Muntinlupa, Valenzuela, Navotas and Malabon all in Metro Manila; the cities of Cavite, Bacoor and Imus, and the towns of Kawit, Noveleta and Rosario, all in Cavite Province.