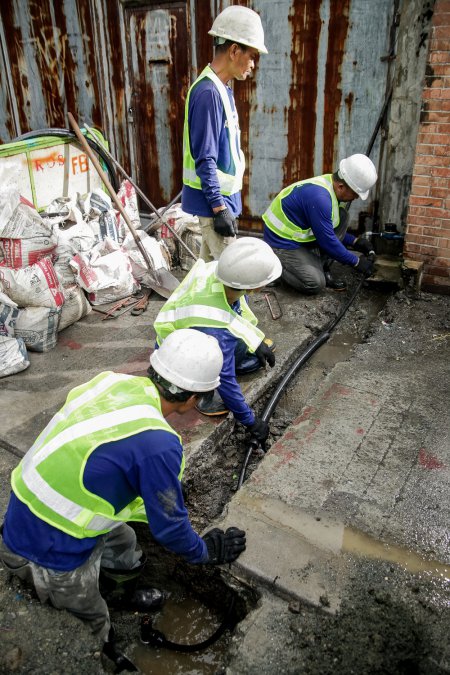 West Zone concessionaire Maynilad Water Services, Inc. (Maynilad) repaired 21,000 pipe leaks in 2018, bringing its total leak repairs to almost 356,000 since its re-privatization in 2007.
The water company spent about P200 million in 2018 alone to plug pipe leaks, most of which were found on secondary and primary lines in Quezon City, Parañaque and Muntinlupa. These leak repair activities enabled Maynilad to save some 291 million liters per day (MLD) of potable water, which is enough to supply the water requirements of more than 2 million customers.
Proactive leak detection and repair are among Maynilad's activities aimed at reducing water losses due to physical leaks in the distribution system. It uses state-of-the-art technology—such as the Sahara® mobile leak detection system—to detect underground pipe leaks for repair.
"Through continuous leak repairs and pipe replacements, we have managed to renew 57% of the water network that we inherited in 2007. Sustained investments in network rehabilitation are essential to ensuring uninterrupted water supply for our current and future customers," said Maynilad President and CEO Ramoncito S. Fernandez.
Maynilad is the largest private water concessionaire in the Philippines in terms of customer base. It is the agent and contractor of the Metropolitan Waterworks and Sewerage System (MWSS) for the West Zone of the Greater Manila Area, which is composed of the cities of Manila (certain portions), Quezon City (certain portions), Makati (west of South Super Highway), Caloocan, Pasay, Parañaque, Las Piñas, Muntinlupa, Valenzuela, Navotas and Malabon all in Metro Manila; the cities of Cavite, Bacoor and Imus, and the towns of Kawit, Noveleta and Rosario, all in Cavite Province.