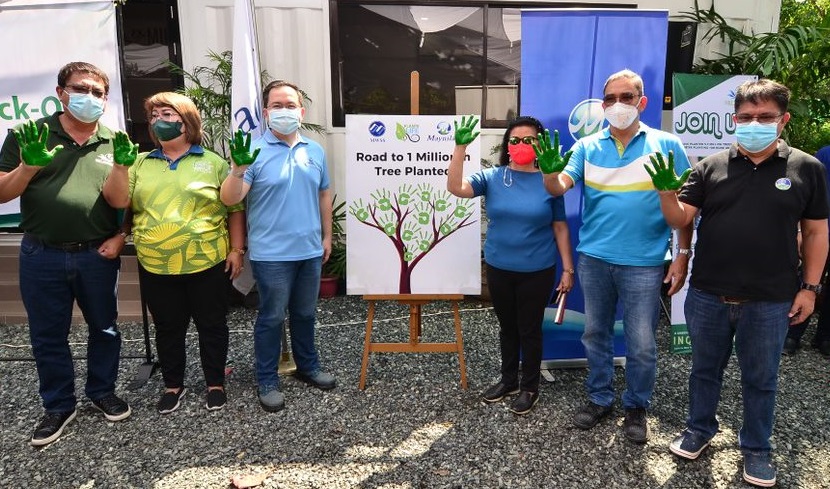 West Zone concessionaire Maynilad Water Services, Inc. (Maynilad) kicked off its annual "Plant for Life" program with a commitment to plant its one-millionth tree within the year. This milestone will be reached once the target of planting 90,000 trees in 2022 is completed, thus serving as a highlight to Maynilad's 15th anniversary as a re-privatized company.
"Plant for Life" is the flagship environmental conservation program of Maynilad, which aims to recover denuded watersheds and thus protect the water supply of millions of consumers. It rallies volunteers from the public and private sector to help recover forestlands through the annual planting of trees.
Originally conceptualized to reforest the watersheds in Angat, Ipo and La Mesa, this tree-planting initiative later became a multi-site reforestation program that included areas along the Manila Bay coast and Laguna Lake. Since the program's inception in 2007, Maynilad has already planted more than 923,000 indigenous trees and mangroves covering a land area of 573 hectares.
"Planting a tree may seem simple enough. However, its impact can be tremendous as far as watershed protection is concerned. The more denuded forestlands we can recover, the better our chances of improving water security, and providing a sustainable environment for future generations," said Maynilad President and CEO Ramoncito S. Fernandez.
Tree planting also helps with carbon sequestration, which is essential to reducing the greenhouse gases that lead to global warming. Through "Plant for Life", Maynilad has been able to reduce its carbon emissions by around 25,000 tons per year. Together with the rest of the MVP Group of Companies, Maynilad is aiming to be Climate Neutral by year 2037.
Maynilad is the largest private water concessionaire in the Philippines in terms of customer base. Its service area includes the cities of Manila (all but portions of San Andres and Sta. Ana), Quezon City (west of San Juan River, West Avenue, EDSA, Congressional, Mindanao Avenue, the northern part starting from the Districts of Holy Spirit and Batasan Hills), Makati (west of South Super Highway), Caloocan, Pasay, Parañaque, Las Piñas, Muntinlupa, Valenzuela, Navotas, and Malabon, all in Metro Manila; and the cities of Cavite, Bacoor, and Imus, and the towns of Kawit, Noveleta, and Rosario, all in the province of Cavite.
PHOTO CAPTION:
Maynilad has officially kicked-off its annual tree-planting activity, "Plant for Life", which aims to rehabilitate and reforest the watersheds that supply raw water for Metro Manila and neighboring provinces. The company aims to plant its one-millionth tree within the year, in celebration of its 15th anniversary as a re-privatized company. Maynilad President and CEO Ramoncito S. Fernandez (5th from left) led the kick-off event held recently in La Mesa Nature Reserve, Quezon City. With him were (from left) Million Trees Foundation Inc. president Melandrew Velasco, Quezon City Mayor's Office representative Architect Nancy Esguerra, Metropolitan Waterworks and Sewerage System (MWSS) Chief Regulator Atty. Lester Patrick Ty, MWSS Administrator Engr. Leonor C. Cleofas, and Department of Environment and Natural Resources-National Capital Region (DENR-NCR) Director Ignacio Almira, Jr.