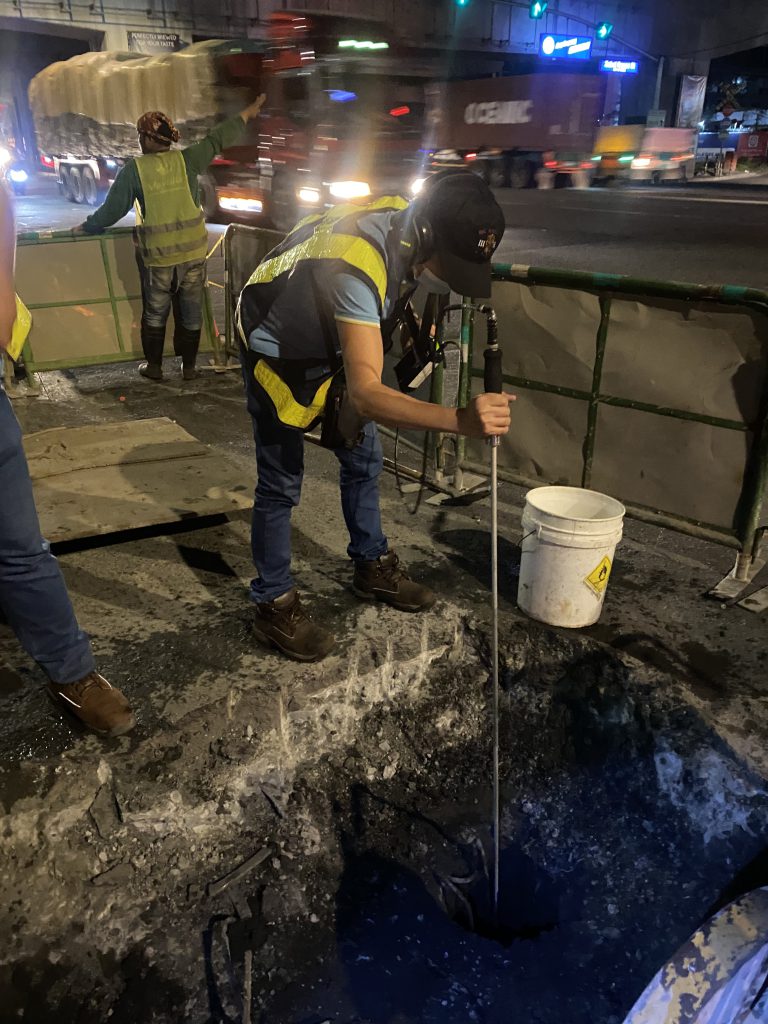 West Zone concessionaire Maynilad Water Services, Inc. (Maynilad) has discovered a major pipe leak along Osmeña Highway corner Zobel Roxas, Manila, following intensive leak detection activities in the area. The company estimates a water loss recovery of around 20 to 30 MLD (million liters per day) once this leak is repaired.
The leak was discovered during one of Maynilad's routine pipe network inspections using various acoustic leak detection equipment. "We were able to pinpoint the location of the leak from above-ground. Based on our initial assessment, the leak appears to be coming from a 2,200mm-diameter primary line, which is located 7 meters underground," said Maynilad Water Supply Operations head, Engr. Ronaldo Padua.
Maynilad needs to excavate the site and expose the pipe to fully assess the extent of the damage. Given the size of the pipe and the depth of its location—and depending on the repairs that will be required—the activity may take several days to implement, and this will affect water service for customers who receive their supply through this primary line.
Maynilad will announce the schedule of service interruptions and the specific affected areas prior to implementation of the pipe repair so that affected customers can prepare.
Once the leak is plugged, the expected water loss recovery will help to boost water pressure in adjacent areas and effectively provide more supply for distribution to customers. "We want to implement the leak repairs as soon as possible, since repairing it will help to significantly improve service levels in the area," Padua said.
Active leakage control is among the activities that Maynilad pursues in line with its Non-Revenue Water (NRW) management program, which aims to curb physical and commercial water losses. Other NRW reduction activities of the company include pipe and meter replacements, District Metered Areas establishment and maintenance, and sustained network diagnostic activities.
Maynilad is the largest private water concessionaire in the Philippines in terms of customer base. It is the concessionaire of the Metropolitan Waterworks and Sewerage System (MWSS) for the West Zone of the Greater Manila Area, which is composed of the cities of Manila (certain portions), Quezon City (certain portions), Makati (west of South Super Highway), Caloocan, Pasay, Parañaque, Las Piñas, Muntinlupa, Valenzuela, Navotas and Malabon all in Metro Manila; the cities of Cavite, Bacoor and Imus, and the towns of Kawit, Noveleta and Rosario, all in Cavite Province.
PHOTO CAPTION: A Maynilad engineer tries to pinpoint the exact location of an underground pipe leak using a leak locator and acoustic listening device. Maynilad estimates to recover a water loss volume of around 30 MLD once the leak that it has discovered on a primary line along Osmeña Highway is repaired.