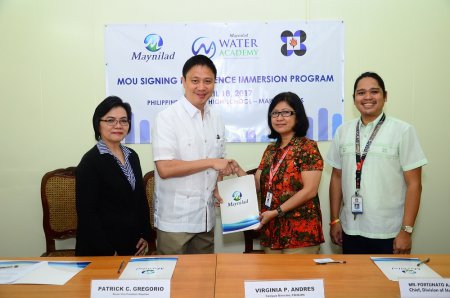 West Zone concessionaire Maynilad Water Services, Inc. (Maynilad), through its education arm Maynilad Water Academy, recently sealed a partnership with the Philippine Science High School-Main Campus (PSHS) to launch a Science Immersion Program that will promote water education among the youth.
The partnership signifies the formation of a "Junior Water Camp", an internship program to promote the students' appreciation of water company operations. Maynilad will share its expertise, technology and materials for this program, which will focus on water and wastewater education and environmental conservation."
"We need to develop the next generation of water experts that will ensure sustainability of this precious and limited resource. Through this partnership with PSHS, we can develop the interest and competencies of students who wish to pursue a career in the water industry," said Maynilad Senior Vice President for Commercial and Marketing Patrick C. Gregorio
Since its establishment in 2011, the Maynilad Water Academy has created an environment for learning and benchmarking of best practices in water, sanitation and hygiene in the Philippines and across Asia.
Maynilad is the largest private water concessionaire in the Philippines in terms of customer base. It is the agent and contractor of the Metropolitan Waterworks and Sewerage System (MWSS) for the West Zone of the Greater Manila Area, which is composed of the cities of Manila (certain portions), Quezon City (certain portions), Makati (west of South Super Highway), Caloocan, Pasay, Parañaque, Las Piñas, Muntinlupa, Valenzuela, Navotas and Malabon all in Metro Manila; the cities of Cavite, Bacoor and Imus, and the towns of Kawit, Noveleta and Rosario, all in Cavite Province.
PHOTO CAPTION:
MOU for water education. Maynilad and Philippine Science High School (PSHS) seal a partnership to launch a Science Immersion Program that will provide water education for the youth. Signing the Memorandum of Understanding are (from left) Maynilad Water Academy executive director Rodora N. Gamboa, Maynilad SVP for Commercial and Marketing Patrick C. Gregorio, PSHS-Main Campus director Virginia P. Andres, and PSHS Division of Student Affairs chief Fortunato A. Tacuboy III.