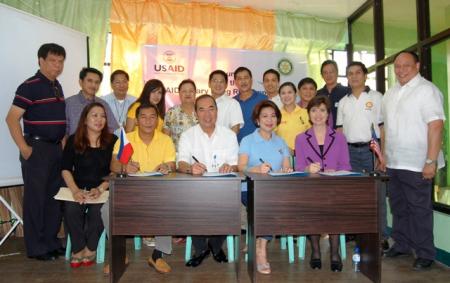 Maynilad sealed its partnership with the United States Agency for International Development (USAID) and Rotary International for a comprehensive program to advance health and sanitation in communities near Pasig River in Paco and Sta. Ana, Manila and Baesa, Quezon City. The two international agencies, along with local barangay officials, also vowed to assist Maynilad in the speedy completion of the company's sewerage projects in these areas.
The partnership is in line with Maynilad's initiative to prioritize sewerage and sanitation projects that will benefit households and establishments along the Pasig River system. Through proper wastewater collection, treatment and disposal, the company can help reduce pollution in the river, prevent the outbreak of water-borne diseases, and promote sanitation in the communities.
Maynilad's priority sewerage projects include the Baesa Sewage Treatment Plant and the Paco Sewage Treatment Plant, which are both scheduled to be constructed this year. Part of the extensive San Juan River Basin Project, the Baesa Plant can treat up to 390 cubic meters of wastewater per day and serve around 3,000 people. Meanwhile, the Paco Plant has a design capacity of 550 cubic meters per day, which will enable the company to serve around 500 families in addition to those who are already connected to existing sewer lines.
Photo Caption: Signing the Memorandum of Understanding are (seated by the table, from left) Brgy. Baesa Chairman Eduardo Juan, Maynilad president Rogelio L. Singson, Rotary International District 3780 Governor Dulce Coyukiat, and AECOM International Development (implementer of USAID-funded Philippine Sanitation Alliance program) Chief of Party Lisa Kircher Lumbao. Witnessing the signing of agreement are other Maynilad, USAID, Rotary International and local government officials led by Quezon City Vice Mayor Herbert Bautisa (standing sixth from left).