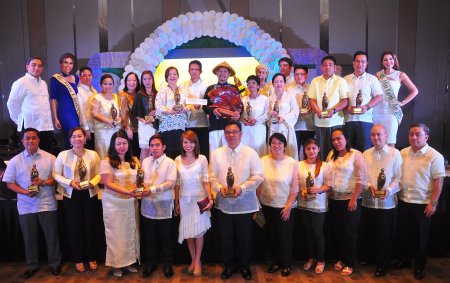 West Zone concessionaire Maynilad Water Services, Inc. (Maynilad) and the National Water Resources Board (NWRB) recently honored 18 water champions who have made a difference in the area of water access and environmental sustainability during the World Water Day (WWD) Awards 2016 held recently at Hotel Novotel Manila, Quezon City.
Now on its second year, the WWD Awards recognizes individuals and institutions from the academe, government and non-government agencies, and the private sector. The annual award-giving event served as the culminating activity of the World Water Day celebration from March 15 to 22.
The WWD Awards gave recognition this year to the environmental protection efforts of the water districts of Plaridel, Palayan and Bacolod; the City Government of Marikina; Dagupan City's Bonoan Boquig Elementary School, and the Land Bank of the Philippines.
Also recognized were the following institutions and companies: Society for the Conservation of Philippine Wetlands, Manila Bay Sunset Partnership Program, Inc., Aseana Business Park Estate Association, Inc., Mach Union Water Lab, Inc., and social enterprise Tubig Pag-asa.
Meanwhile, individual awards were given to Laguna de Bay Environmental Army member Generosa V. Espiritu, LIMAS MARINA River Rehabilitation and Protection Council president Edgardo A. Reyes ("Kampeon ng Lawa"), waste recycling advocate Emma Suico Ventura ("Kawal ng Kalikasan"), Pasig River Rehabilitation Commission executive director Ramil R. Tan ("Water Warrior Award – Bayani ng Ilog"), community leader Edisa Don ("Water Warrior Award for Community Mobilization"), and artist Tata Raul Funilas ("Water Warrior Award for Environmental Education").
"People who work in water-related sectors are often not recognized for their efforts, and it is our intent to change that through the World Water Day Awards. Though only on its second year, the mission of this awards program is to give recognition to remarkable water professionals, whose work has created quite an impact not only in the industry, but also in our society," President and CEO Ramoncito S. Fernandez said.
Maynilad and NWRB held the WWD Awards 2016 in partnership with 21 government and private organizations including the Department of Environment and Natural Resources, Department of Interior and Local Government, Department of Public Works and Highways, Metropolitan Waterworks and Sewerage System, Local Water Utilities Administration, and Laguna Lake Development Authority.
Other Maynilad-led activities held in line with this year's WWD celebration are the water-exhibit and inter-agency sungka tournament last March 15, and the mangrove planting in Noveleta, Cavite last March 18. The Department of Interior and Local Government (DILG) also collaborated with Maynilad in organizing the WWD 2016's "Run for Water" at the Marikina Sports Complex last March 20.
PHOTO CAPTION: Maynilad President and CEO Ramoncito S. Fernandez (top left) and National Water Resources Board Executive Director Sevillo D. David Jr. (3rd from top left) with the World Water Day Awards 2016 awardees.