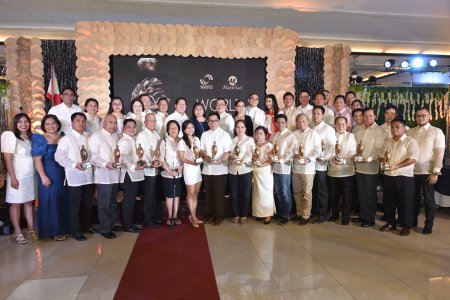 West Zone concessionaire Maynilad Water Services, Inc. (Maynilad) and the National Water Resources Board (NWRB) honored 14 water champions who have made a difference in the area of water access and environmental sustainability at the World Water Day (WWD) Awards 2017, held at Quezon City Sports Club, Quezon City.
Now on its third year, the WWD Awards recognizes individuals and institutions from the academe, government and non-government agencies, and the private sector. The annual award-giving event served as the culminating activity of the World Water Day celebration in the Philippines from March 15 to 24.
The WWD Awards gave recognition this year to the water and environmental protection efforts of the water districts of San Jose Del Monte, Baliwag and Dumaguete City; and the local governments of Makati City, San Jose Del Monte (Bulacan) and San Carlos City (Negros Occidental).
Also recognized were the following institutions and advocacy campaigns: Global Underwater Explorers (GUE), the TWG Knifefish Infestation, the MMDA Flood Control and Sewerage Management Office, and Manila Water's Toka-toka Advocacy.
Meanwhile, individual awards were given to capacity building champions, namely Paraňaque City Mayor Edwin L. Olivarez, Samahang Tubig Maynilad-Riverview President Albert Toldaňes, Bicol Water Districts Association Engr. Rey Dennis Gilbas and Mr. Gil R. Abaquin of Ecoindex.
"Though only on its third year, World Water Day Awards has recognized the country's remarkable water leaders and advocacy groups, whose work have created quite an impact not only in the industry, but also in our society," President and CEO Ramoncito S. Fernandez said.
Held every year since 2015, Maynilad and NWRB mount the WWD Awards 2016 in partnership with 22 government and private organizations including the Department of Environment and Natural Resources, Department of Interior and Local Government, Department of Public Works and Highways, Metropolitan Waterworks and Sewerage System, Local Water Utilities Administration, and Laguna Lake Development Authority.
IN PHOTO: Maynilad President and CEO Ramoncito S. Fernandez (upper row, 11th from left), National Water Resources Board Executive Director Sevillo D. David Jr. and DENR Undersecretary Demetrio L. Ignacio, (upper row, 6th and 7th from left, respectively) with the World Water Day Awards 2017 awardees.