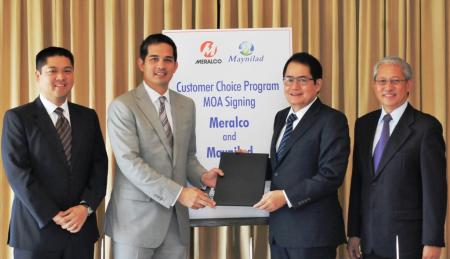 In an effort to reduce its electricity bill, Maynilad Water Services, Inc. (Maynilad) recently enrolled in the Customer Choice Program of the Manila Electric Company (Meralco).
Under the program, Maynilad will buy electricity from Meralco at Time-Of-Use (TOU) retail rates. In effect, the water company will be allowed to pay less for the electricity it consumes during off-peak hours.
Initially, the agreement will cover the company's Putatan Water Treatment Plant and Villamor Pumping Station, resulting in minimum annual savings of 2.5% on power cost. Electricity cost is one of Maynilad's highest operating expenses.
"We want Maynilad's operations to be as cost-efficient as possible," said President and CEO Ricky Vargas.
Maynilad is owned and managed by DMCI-MPIC Water Company, Inc. (DMWCI), a joint venture between Metro Pacific Investments Corporation (MPIC) and DMCI Holdings, Inc. (DMCIHI).
PHOTO CAPTION: (L-R) Meralco's Victor S. Genuino (VP and Corporate Business Group Head) and Alfredo S. Panlilio (SVP and Customer Retail Services Head) sign the MOA with Maynilad's Ricky Vargas (President and CEO) and Herbert Consunji (Chief Operating Officer) to formalize the TOU agreement between the two utility companies.