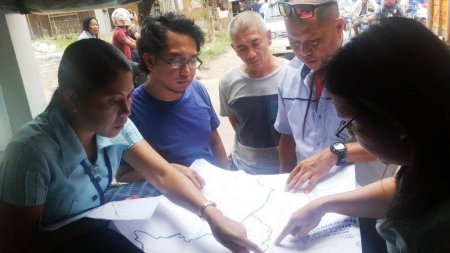 Maynilad Water Services, Inc. (Maynilad), through its Maynilad Water Academy, is mentoring the Cagayan de Oro Water District (COWD) on hydraulic modeling under a Twinning Partnership facilitated by WaterLinks through the "Be Secure" project of USAID.
Hydraulic modeling involves creating computer water system models to simulate the actual network's behavior. It is an essential tool for planning and addressing issues in pressure management and water losses, among others.
In the photo, COWD's Principal Engineer Lindon Butron (2nd from right) is shown familiarizing Maynilad's Network Modeling Head Engr. Jermaine Ronquillo (2nd from left) with the hydraulic system of Barangay Camaman-an, Cagayan de Oro. Camaman-an was selected as this Twinning Partnership's pilot area because of its problematic water supply due to its high elevation.
The USAID's "Be Secure" (The Water Security for Resilient Economic Growth and Stability) Project in the Philippines seeks to promote good governance, build capacity for long-term water security, improve access to water and wastewater treatment services, and build more resilient communities.