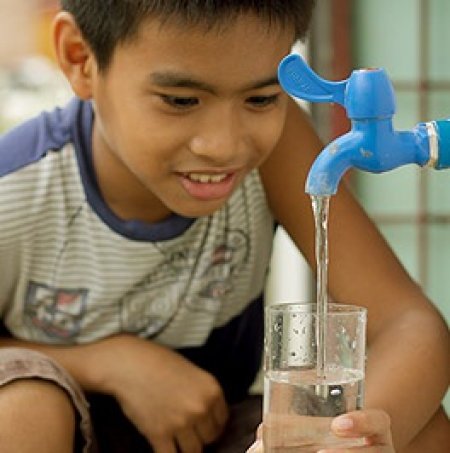 Maynilad Water Services, Inc. (Maynilad) maintained 100% satisfactory compliance with the Philippine National Standards for Drinking Water (PNSDW) of the Department of Health (DOH) for the first half of 2014.
Since 2010, Maynilad has consistently received 100% satisfactory rating for water quality across the West Zone concession area. Every month, 949 samples—26 more than what is required under the PNSDW— are taken from different points across the West Zone to undergo strict bacteriological, physical and chemical examination. This ensures that the water is safe for consumption.
"Guaranteeing the quality of the water we deliver to our customers—from our source in Bulacan all the way down to Cavite—is our utmost priority," said Maynilad President and CEO Ricky P. Vargas.
The World Health Organization and the International Water Association have recognized Maynilad's Water Safety Plan (WSP) as the Overall Winner of the Drinking Water Safety Awards in 2012. The WSP covers all phases of the company's operations, and contains hazard analysis, risk assessment, and control measures in containing or removing possible water contamination brought by disasters and natural phenomena.
Maynilad is the largest private water concessionaire in the Philippines in terms of customer base. It is the concessionaire of the MWSS for the West Zone of the Greater Manila Area, which is composed of the cities of Manila (certain portions), Quezon City (certain portions), Makati (west of South Super Highway), Caloocan, Pasay, Parañaque, Las Piñas, Muntinlupa, Valenzuela, Navotas and Malabon, all in Metro Manila; the cities of Cavite, Bacoor and Imus, and the towns of Kawit, Noveleta and Rosario, all in Cavite Province.