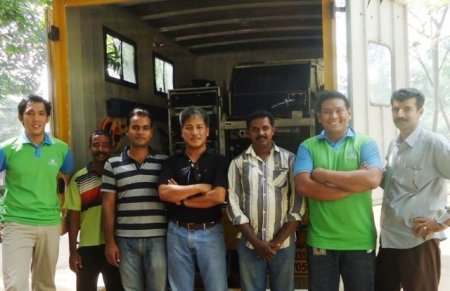 West Zone concessionaire Maynilad Water Services, Inc. (Maynilad) is extending its non-revenue water (NRW) management expertise to the Kerala Water Authority (KWA) in Kerala, India. The Indian water agency is currently losing some 60% or 174 million litres of drinking water per day in its 70-year old distribution system.
In August 2013, Maynilad was engaged by Pure Technologies Ltd. of Canada, to help KWA formulate its own NRW reduction strategies. Maynilad will also inspect 5 to 8 kilometres of primary lines in Kerala, using SmartBall® and Sahara® mobile leak detection unit. The engagement is scheduled to end this September.
SmartBall® is an in-line leak detection technology designed to operate in live water mains while Sahara® is a state-of-the-art technology that detects leaks, pockets of trapped gas, and structural defects in main water lines.

"In less than six years after our re-privatization, Maynilad has not only reduced its water losses from 67% to 38%, we have also trained our engineers to become world-class NRW management specialists. We are very excited and proud to share our technical expertise with our neighbours in the Asian region," said Maynilad President and CEO Ricky P. Vargas.

Maynilad has been at the forefront of using advanced technologies to reduce its water losses. It uses several state-of-the-art leak detection technologies to identify leaks in its distribution system that include the Sahara® mobile leak detection system, Aquascan Trunk Main (TM) leak noise correlator, JD7 LDS2010 "Investigator" tethered leak detection system with audio and video capability. Maynilad is the first water company in the Philippines and even in Asia to tap these technologies.

Kerala is a state in the south-west region of India on the Malabar Coast. Regarded as India\'s cleanest state, Kerala has an area of 38,863 sq.km and a population of over 33.4 million people.

Maynilad is the largest private water concessionaire in the Philippines in terms of customer base. It is a concessionaire of the MWSS for the West Zone of the Greater Manila Area, which is composed of the cities of Manila (all but portions of San Andres & Sta. Ana), Quezon City (west of San Juan River, West Avenue, EDSA, Congressional, Mindanao Avenue, the northern part starting from the Districts of the Holy Spirit & Batasan Hills), Makati (west of South Super Highway), Caloocan, Pasay, Parañaque, Las Piñas, Muntinlupa, Valenzuela, Navotas and Malabon all in Metro Manila; the cities of Cavite, Bacoor and Imus, and the towns of Kawit, Noveleta and Rosario, all in Cavite Province.