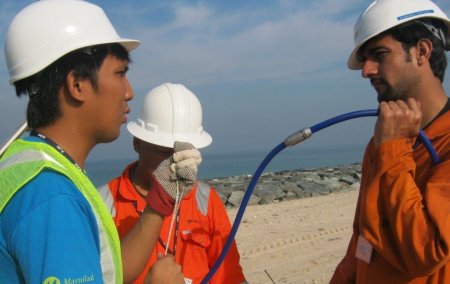 West Zone concessionaire Maynilad Water Services, Inc. (Maynilad) recently provided leak inspection expertise to United Arab Emirates-based Dubai Aluminium Company Ltd. (DubAl), the fifth largest aluminium producer in the world and one of the largest non-oil contributors to the economy of Dubai.

Engaged by Pure Technologies Ltd.of Abu Dhabi for the project, Maynilad inspected DubAl\'s four kilometer long 900mm Fiber Cemented Steel Pipe and 800 mm Glass Reinforced plastic lines using SmartBall® and SAHARA® technology.
SmartBall® is an in-line leak detection technology designed to operate in live water mains while Sahara® is a state-of-the-art technology that detects leaks, pockets of trapped gas, and structural defects in main water lines.

Aside from detecting leaks, Maynilad was also tasked to assess the remaining in-service life of DubAl's water lines.

"Over the years we have developed technical skills that are valuable even in other countries. After the Kerala Water Authority (KWA) in India and DubAL in UAE, we hope to bring our expertise to even more areas," said Maynilad President and CEO Ricky P. Vargas.

In Asia, Maynilad has been at the forefront of using advanced technologies to detect physical water losses. Aside from the Sahara® mobile leak detection system, Maynilad uses modern leak detection technologies like the Aquascan Trunk Main (TM) leak noise correlator and the JD7 LDS2010 "Investigator" tethered leak detection system with audio and video capability. Maynilad is the first water company in the Philippines and even in Asia to tap these technologies.

Maynilad is the largest private water concessionaire in the Philippines in terms of customer base. It is the concessionaire of the MWSS for the West Zone of the Greater Manila Area, which is composed of the cities of Manila (all but portions of San Andres & Sta. Ana), Quezon City (west of San Juan River, West Avenue, EDSA, Congressional, Mindanao Avenue, the northern part starting from the Districts of the Holy Spirit & Batasan Hills), Makati (west of South Super Highway), Caloocan, Pasay, Parañaque, Las Piñas, Muntinlupa, Valenzuela, Navotas and Malabon all in Metro Manila; the cities of Cavite, Bacoor and Imus, and the towns of Kawit, Noveleta and Rosario, all in Cavite Province.