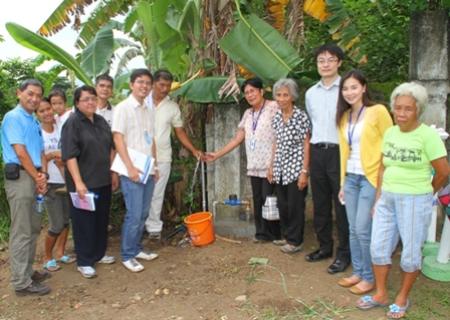 West Zone concessionaire Maynilad Water Services, Inc. (Maynilad) continues to provide access to potable and affordable water supply for urban poor communities with the recent inauguration of another Samahang Tubig Maynilad (STM) community in Quezon City.
The new STM community, established in Sitio Bakal, is composed of 250 households that used to rely on unsafe water supply from small, private deep wells. Now, the residents use potable surface water from Maynilad through the public faucet installed for their community.
The STM program seeks to address the issues that prevent communities of informal settlers from gaining access to safe, reliable and affordable water. Under this program, Maynilad organizes communities of informal settlers into cooperative-based organizations and gives them values formation and skills training so they can manage the public faucets installed by the company.
"Providing communities with clean water, regardless of their social standing, has always been at the heart of our business. This is why we continue to help and empower communities so that they too may enjoy the benefits of having access to safe and affordable water," said Maynilad President and CEO Ricky P. Vargas.
Last year, the International Water Association (IWA) recognized Maynilad's STM program under the Project Innovations Development Category. The award is given to excellent and innovative water and sanitation projects in low and middle-income countries.
Maynilad is the largest private water concessionaire in the Philippines in terms of customer base. It is a concessionaire of the Metropolitan Waterworks and Sewerage System (MWSS) for the West Zone of the Greater Manila Area, which is composed of the cities of Manila (all but portions of San Andres & Sta Ana), Quezon City (west of San Juan River, West Avenue, EDSA, Congressional, Mindanao Avenue, the northern part starting from the Districts of the Holy Spirit & Batasan Hills), Makati (west of South Super Hi-way), Caloocan, Pasay, Paranaque, Las Pinas, Muntinlupa, Valenzuela, Navotas and Malabon all in Metro Manila; Cavite City, and the towns of Bacoor, Imus, Kawit, Noveleta and Rosario, all in Cavite Province.
IN PHOTO: Officials from Maynilad and Japan International Cooperation Agency (JICA) join STM-Sitio Bakal residents during the inauguration of the new STM community.