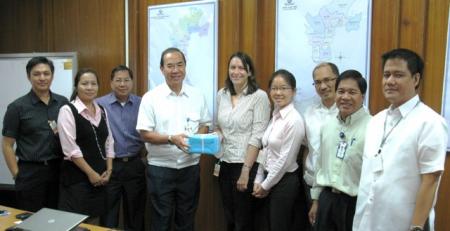 Maynilad, the largest water concessionaire in the country in terms of customer base, recently forged an alliance with the United States Agency for International Development (USAID) and the Indah Water Konsortium (IWK) of Malaysia to promote the company's sanitation program and facilitate the development of sewerage systems in various communities in the West Zone of the Greater Manila Area.
The collaboration is part of the Twinning Partnerships — a program founded by USAID and International Water Association which aims to facilitate capacity building and exchange of technical expertise among water and sewerage operators to improve access to water and basic sanitation around the globe.
According to Maynilad Sewerage and Sanitation head Antonio Garcia, the main goal of the Maynilad-IWK Twinning arrangement is to exchange best practices and learning experiences with the Malaysian firm to help improve the capability of Maynilad to develop and implement sewerage and sanitation projects.  "This would include selection of appropriate technology, evaluation of designs, project management and even operation and maintenance of sewage treatment plants," Garcia said.
Another component of the program is to promote the health and environmental benefits of being connected to sewer lines.  "We also want to raise awareness on the consequences of indiscriminate dumping of domestic and industrial wastes in rivers and waterways in Metro Manila," Maynilad Corporate Social Responsibility head Nerissa Jose added.
The partnership will prioritize promoting Maynilad's free septage-collection activities and sewerage projects in communities near waterways such as Dario Creek and San Francisco Creek in Quezon City.  These areas are site to two of Maynilad's 13 Sewerage Treatment Plant (STP) projects that will be implemented in 2011.  The 13 STPs form part of the San Juan River Basin project under the company's 5-year plan to upgrade and expand its sewerage services.
The partnership is among Maynilad's initiatives to advance effective wastewater management, environmental protection, and cleanliness and hygiene among its customers in the West Zone.  The effort is also in line with Maynilad's commitment to support the Kapit Bisig Para sa Ilog Pasig program, a campaign led by ABS-CBN Foundation and DENR to revive the river.

Photo Caption: Maynilad officers, led by President Rogelio L. Singson, present a token of appreciation to Jay Tecson, Jennifer Kovolski, and Linda Shi (first, fifth and sixth from left) of USAID arm EcoAsia, after discussing the details of their collaboration.