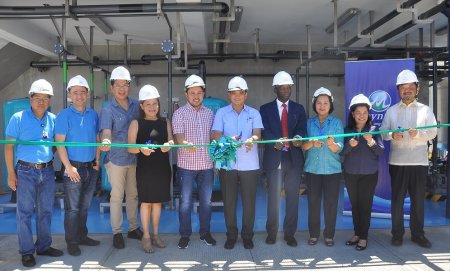 Maynilad Water Services, Inc. (Maynilad) recently inaugurated its Alabang-Zapote Septage Treatment Plant (ALAZAP SpTP) in Las Piñas City. Present to lead the ribbon-cutting was Maynilad President and CEO Ramoncito S. Fernandez (6th from left).
With him were (from left) Maynilad Wastewater Management head Antonio Garcia, Maynilad COO Randolph Estrellado, Las Piñas District I councilor Mark Anthony Santos, Las Piñas city mayor representative April Aguilar-Neri, Las Piñas Rep. Mark Villar, World Bank manager for Water Global Practice Ousmane Dione, Land Bank of the Philippines EVP for Agricultural and Development Lending Sector Cecilia Borromeo, Metropolitan Waterworks and Sewerage System deputy administrator Leonor Cleofas, and JFE Engineering Corp. Director of Overseas Business Division Aqua Solutions Sector Yoshiro Abe.
The ALAZAP SpTP can treat up to 250 cubic meters (or 0.25 million liters) of septage per day and was built to treat wastewater collected from the septic tanks of Maynilad customers in the south. The new facility—one of six Maynilad projects funded by the $137.5-million World Bank loan—is part of the company's program to expedite the provision of sewerage and sanitation services in Metro Manila.