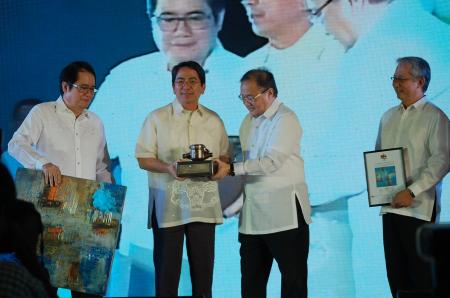 West Zone concessionaire Maynilad Water Services, Inc. (Maynilad) honored government officials and private citizens who played key roles in the company\'s service expansion and modernization program.
During the celebration of its 5th anniversary as a re-privatized company, Maynilad gave special awards to Parañaque mayor Florencio Bernabe Jr., for facilitating the swift implementation of the company\'s water supply improvement and expansion projects in Parañaque; Bureau of Corrections director Gaudencio Pangilinan, for making possible the completion of a pipe-laying project that benefited 12,000 inmates of the Maximum Security Compound in Muntinlupa; and Samahang Tubig Maynilad-Tondo Chapter president Lydia Codiñera, for her hard work and commitment to making clean water available to her community.
Maynilad also conferred awards to the 12 outstanding barangay captains who gave their full support to the company\'s initiatives, thus accelerating the benefits of improved water supply in various barangays in the West Zone.
The barangay officials given trophies and cash prizes were Marcelo De Guzman of Bgy. P. Parada, Novaliches; Jose Gaviola Sr. of Bgy. Commonwealth, Quezon City, Dionisio Domingo of Bgy. 168, Caloocan City; Elvira Bade of Bgy. 138, Caloocan City; Enrico Aguilar of Bgy. 28, Caloocan City; Concepcion Malañguen of Bgy. Doña Imelda, 4th District, Quezon City; Domingo Delos Reyes III of Bgy. 164, Zone 14, District 2, Manila; Priscilla Ong of Bgy. 634, Zone 34, Sampaloc, Manila; Dario "Fojas of Bgy. San Isidro, Makati City; Ivee Arciaga of Bgy. Poblacion, Muntinlupa City; Teodoro Virata, Jr. of Bgy. Don Bosco, Parañaque City; and Filemon Aguilar of Bgy. CAA, Las Piñas City.
"It is through the invaluable support of our stakeholders that we are able to provide more people with potable, affordable water. And because of our partners, we are able to build stronger relationships with the communities we serve," Maynilad president and CEO Victorico P. Vargas said.
Maynilad is the largest private water concessionaire in the Philippines in terms of customer base. It is a concessionaire of the Metropolitan Waterworks and Sewerage System (MWSS) for the West Zone of the Greater Manila Area, which is composed of the cities of Manila (all but portions of San Andres & Sta Ana), Quezon City (west of San Juan River, West Avenue, EDSA, Congressional, Mindanao Avenue, the northern part starting from the Districts of the Holy Spirit & Batasan Hills), Makati (west of South Super Highway), Caloocan, Pasay, Parañaque, Las Piñas, Muntinlupa, Valenzuela, Navotas and Malabon all in Metro Manila; Cavite City, and the towns of Bacoor, Imus, Kawit, Noveleta and Rosario, all in Cavite Province.

PHOTO CAPTION: Maynilad chairman Manuel V. Pangilinan hands over a trophy to Parañaque mayor Florencio Bernabe Jr. during the awarding ceremony for Maynilad\'s key stakeholders. Also in the photo are Maynilad president and CEO Victorico P. Vargas and Maynilad COO Herbert M. Consunji.