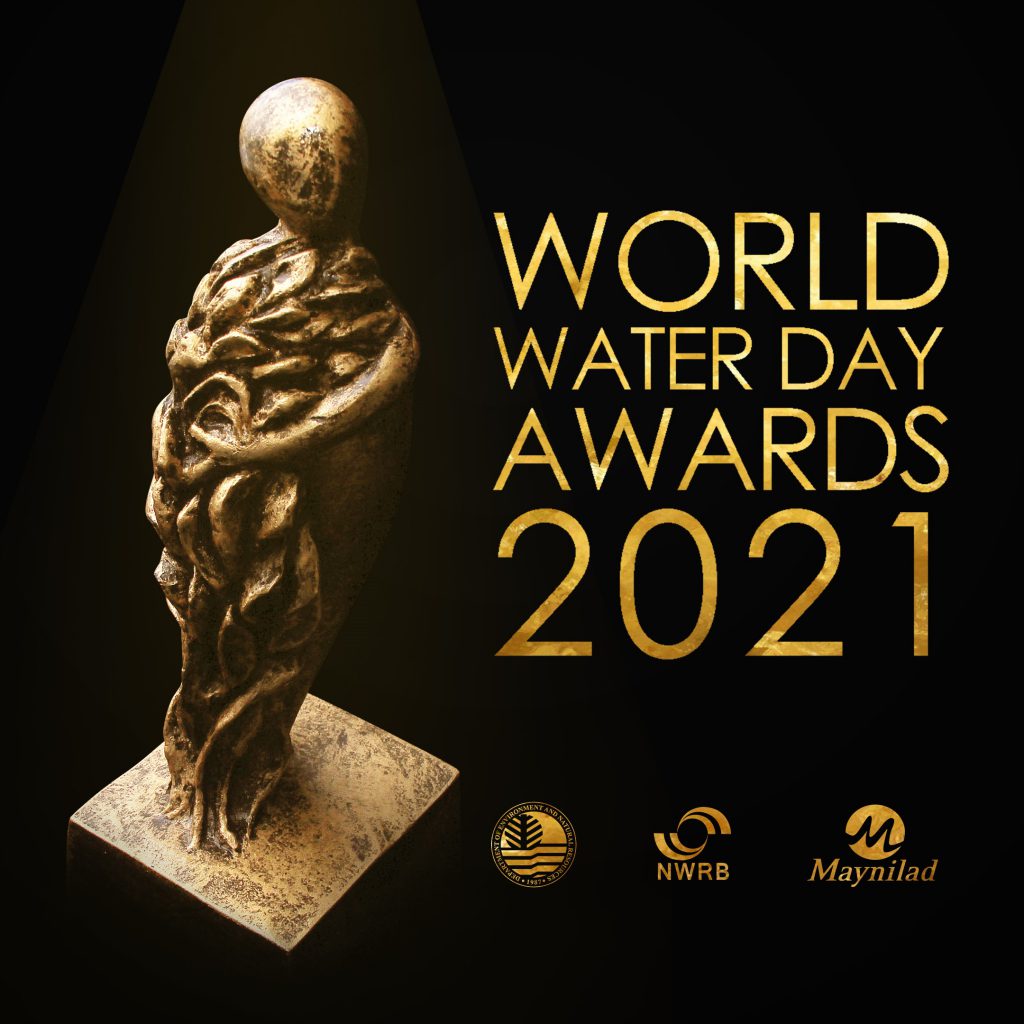 West Zone concessionaire Maynilad Water Services, Inc. (Maynilad), together with the National Water Resources Board (NWRB) and Department of Environment and Natural Resources, honored 19 "water champions" during the 6th World Water Day Awards 2021, the culminating event of the country's celebration of World Water Day.
The World Water Day Awards honors champions for water and the environment—individuals, government agencies, private organizations, and programs that made great contributions in achieving water and environmental sustainability in the Philippines.
Recognized this year for their exemplary water management and environmental conservation efforts were the water districts of Metro Naga, Silay City and Davao City.
Also awarded were LAPOSA Irrigators Association, Inc, Padada Irrigators Association, Inc. (both from Davao Del Sur), Anopog Paglaum Irrigators Association, Inc. in Cebu, Macagatal Irrigators Association in Pampanga, and the Cagayan River Basin Management Council for their excellent management of the irrigation systems and river basins in their areas.
Government agencies—namely, the Municipality of Kalayaan in Laguna and San Pedro City's Sub-Water Quality Management Area—were honored for their solid waste management projects that protect Laguna Lake. Antipolo City was also recognized for its Hinulugang Taktak Protected Landscape Project.
The Bureau of Jail Management and Penology (BJMP) Quezon City Female Dormitory was recognized for its support of the DENR-led Battle for Manila Bay program, through its La Mesa Watershed protection and conservation activities, as well as the National Historical Commission of the Philippines' Museo El Deposito, for its water education efforts.
Meanwhile, Quezon City Mayor Joy Belmonte was conferred the Maynilad Water Warrior Award for Advocacy Leadership for her strong advocacy for climate justice, and excellent environmental management initiatives.
Several water conservation initiatives and environmental projects were also recognized during the World Water Day Awards: Tubig Load Program (Villages Water Supply System), Walk the Line Project (BP Waterworks), Watershed Protection Project (Masungi Georeserve Foundation), "Adopt-a-Site" Watershed Rehabilitation Program (Davao City Water District), and Project Water-Energy-Nutrient Nexus in the Cities of the Future (NexCities).
"Our awardees in this year's World Water Day Awards exhibited an unwavering devotion to protect our water resources. We hope that their contributions will inspire others to do the same, because it is only through the concerted effort of many that we can create a long-lasting, positive impact," says Maynilad.
NWRB Executive Director Dr. Sevillo David Jr. added, "I congratulate and thank the awardees for scaling up your exemplary actions contributing to our aim of water sustainability. We deeply appreciate your initiatives in protecting and conserving our precious water resources."
Maynilad and NWRB mount the World Water Day Awards annually, in partnership with government and private organizations including the DENR, Metropolitan Waterworks and Sewerage System, Local Water Utilities Administration, Laguna Lake Development Authority, National Irrigation Authority, Society for the Conservation of Philippine Wetlands, Philippine Water Partnership and Aboitiz InfraCapital.