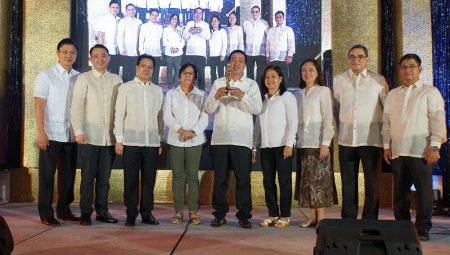 West Zone concessionaire Maynilad Water Services, Inc. (Maynilad), together with the National Water Resources Board (NWRB), recently honored 18 water champions at the 4th World Water Day.PH 2018 (WWD.PH) Awards in Quezon City. The recognition is the culminating event of the week-long celebration of World Water Day.
The WWD.PH honored champions for water and the environment—individuals, institutions and programs that made huge strides in achieving water and environmental sustainability in the Philippines.
Institutions recognized for their efforts in protecting lakes and rivers include Better Tunasan River Army, Cabuyao River Protection Advocates (CaRPA), Philippine Coast Guard – Pasig, and the Villar Sipag Foundation.
Also recognized for their water management and environmental conservation efforts are the water districts of Metro Naga, Silay City and Butuan City; the Manila North Tollways Corporation, Unilever Philippines and Mamamayan para sa Lambat at Dagat Cooperative (private groups); and the local government of Taguig City and the Department of Public Works and Highways (DPWH)-Solid Waste Management Policy Technical Working Group (government). Meanwhile, the ecotourism program of Rizal dubbed "Tanaw de Rizal" was the only project recognized in this year's awards.
Individual "water champions" this 2018 are Mandy Mariño of San Pablo Laguna, Engr. Reynaldo Rosario of DPWH-NCR, Kagawad Annie Baluyot of Valenzuela City, Lydia Codiñera of Samahang Tubig Maynilad-Tondo, and Engr. Ma. Teresa Combatir of the Philippine Association of Water Districts (PAWD).
"The World Water Day Awards has already recognized 54 Filipino water champions since 2015. We are glad that, every year, there is always a new individual or group that gets this award, because it means that there is always someone doing something for the environment," says Maynilad President and CEO Ramoncito S. Fernandez.
Maynilad and NWRB mount the WWD.PH Awards annually in partnership with 22 government and private organizations including the Department of Environment and Natural Resources, Department of Interior and Local Government, DPWH, Metropolitan Waterworks and Sewerage System, Local Water Utilities Administration, Pasig River Rehabilitation Commission, and Laguna Lake Development Authority.
IN PHOTO:  The Mamamayan para sa Lambat at Dagat Cooperative—represented by  officers and advisers Ella Guinto, Allan Chua and Vicenta Lazaro (4th to 6th from left)—is one of the awardees in this year's World Water Day Awards.PH. With them are Maynilad officials led by President and CEO Ramoncito Fernandez (8th from left), Maynilad COO Randolph Estrellado (2nd from left), NWRB Executive Director Sevillo David Jr. (3rd from left), and DENR OIC-Undersecretary for Manila Bay Concerns and Related Water Concerns Atty. Ipat Luna, (7th from left).