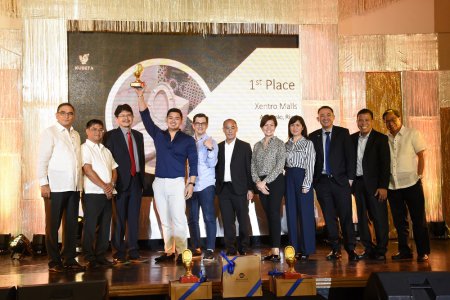 West Zone concessionaire Maynilad Water Services Inc. (Maynilad) celebrated World Toilet Day with the holding of its second "Golden Kubeta Awards"—a social media contest that recognizes the best public restrooms in the Philippines.
The Golden Kubeta Awards advocates the importance of clean toilets in personal health and hygiene, and also seeks to educate the public about proper wastewater management. Out of more than 400 entries submitted this year, three restrooms were declared winners based on their cleanliness, functionality, overall comfort and amenities. These are Xentro Mall in Antipolo City (1st place), Government Service Insurance System office in Pasay City (2nd place), and Troi Oi Vietnamese Restaurant in Iloilo City (3rd place).
In the photo are Maynilad officials led by President and CEO Ramoncito Fernandez (left) with this year's Golden Kubeta Awards top winner, Xentro Mall, represented by its Marketing Vice President Xavier Yul Cruz and Marketing Manager Ferdinand Gabriel (4th and 5th from left, respectively).